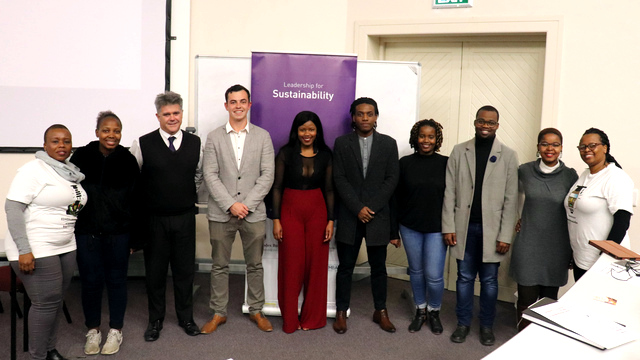 By Liivha Rasimphi, first-year BCom student
Opening the 2019 student entrepreneurship week, the Rhodes Business School held a student panel discussion by the attendees of the entrepreneurship development in higher education on 8 August.
Opening the panel discussion was Rhodes Business School's Director, Prof Owen Skae, who encouraged Rhodes University's aspiring entrepreneurs to take advantage of the need South Africa has for great leaders due to political, accountability and economic uncertainties. He urged the audience to develop distinguishing characteristics such as relatability, determination, and authenticity which forms a major part of emotional intelligence.
"South Africa as a whole has basic high unemployment, which is largely seen in the youth," said Postgraduate Diploma in Enterprise Management student, Jesse Rich. He believes that entrepreneur development in higher education should be imperative. "The resources provided by the University need to be utilised in order to promote entrepreneurism," he said.
"In the vast entrepreneur space in South Africa, how is Rhodes University positioned?" asked BCom student, Sanele Ngubo. He acknowledged Team e-Smart, currently in London for the Hult Prize Accelerator programme, the Enactus society who came in third at Enactus National and Penang Shirindza, who won Eastern Cape EDHE Intervarsity competition for innovative idea, as an indication that Rhodes University has been successful in their entrepreneurial endeavours. However, he believes that, despite this progress, overall the University does not have a conducive environment for entrepreneur welfare due to lack of support and multiple limitations to conducting business within the campus.
With regards to a significant number of entrepreneurial societies at Rhodes University, Ngubo said that there is a need for infrastructural support so that it is possible to establish businesses on campus.
"There are issues between university policy and business establishment on campus," Ngubo said. Due to competitive threats to residence tuckshops and the café, Rhodes University prohibits the development of an entrepreneurial landscape for students.
Postgraduate Diploma in Enterprise Management student Mandisa Khanyile said that with a 30% youth unemployment rate in South Africa, there is a great opportunity for higher education to intervene in building up future entrepreneurs. She says that this would be made possible through improved access to information and she suggested that the University should set up short courses for all students to help them build an entrepreneurial mindset.
"Business skills studies should not be limited to Business and Commerce students only," said Zuziwe Zuma, another Postgraduate Diploma in Enterprise Management student. She suggested starting a mobilised enterprise market at Rhodes University, which would equip students with practical marketing skills.
As a catering company owner herself, she said that the University should open up opportunities to support the students with businesses. She said that this might be possible if there is a platform of interaction between the University and students.
"The Rhodes University culture has died out," stated Timothy Likaku, Postgraduate Diploma in Enterprise Management student. He elaborated on this view by recalling how the University's culture used to be one of "Inspiring each other, pushing each other and working together". Unfortunately, he believes, not many students at Rhodes University see themselves as leaders. "Forming a network initiative between Rhodes Alumni and current students would awaken their need to thrive in entrepreneurial endeavours," he said.
Using the Bamboo Bikes business in Ghana as an example, Likaku showed the possibilities if proper entrepreneur enlightening spaces can be created. "Innovation is not always about technological advancement," he said. He urged other students to not only use the resources freely available to them, but to capitalise on them.
"International Trade Policies set up by America, Australia, Canada and England limits what African countries are allowed to produce with their own raw material," he said. He explained how African countries export raw materials at a lower cost only to import the finished goods back in at a higher cost.
In conclusion, he demonstrated to the audience how to register a company in South Africa under the Company Intellectual Property Commission.