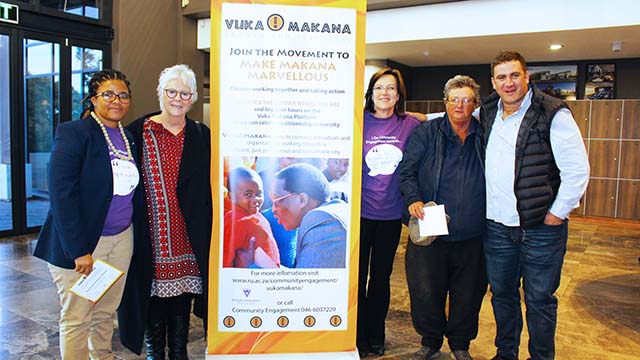 By Julian A Jacobs, PhD candidate, School of Journalism and Media Studies
On Thursday, 9 May 2019, a day after the national elections in South Africa, a Rhodes University initiative with other social partners rebranded itself under the new name of Vuka! Makana, formerly known as Trading Live.
Rhodes University's DVC of Academic and Student Affairs Dr Chrissie Boughey, Director of Community Engagement Diana Hornby, Head of the Vuka! Makana Nosi Nkwinti, Chairperson of Grahamstown Business Forum Richard Gayyba, several community-based organisations, members of the community, academia and members of the Rhodes Student Representative Council (SRC) all gathered at the National English Literary Museum (NELM) to join the launch of this groundbreaking project.
Dr Boughey reiterated Rhodes University's standing commitment to ensure that Vuka! Makana becomes an integral part of the University's commitment to the development of our community.
Vuka! Makana's motto is "Growth and Resilience". It is an online platform that allows academics and students from Rhodes University as well as members of the community and community-based organisations to take collective action to serve the Makanda in innovative ways.
Vuka! Makana promotes recycling, making greener spaces, and supporting tourism and jobs. It seeks to preserve the area's heritage, instill transparent and effective governance on issues of integrated water management, protect vulnerable groups, harness human capital, create safe and shares spaces and strengthen the justice system
Vuka! Makana allows volunteers to log their hours in several different categories – whether it be cleaning the streets, fixing potholes, running a workshop, visiting the elderly, adopting a public garden space, mentoring learners, helping with the distribution of water to water-scarce areas and many more.
Any work related to the 25 selected sustainable development goal (SDGs) can be logged on the Vuka! Makana online platform: https//goo.gl/forms/YOJO8GreDbWSBGHI3. Residents, academics and students are encouraged to focus on the crisis areas we face in Makana. The initiative hopes to reach 365 hours for each of the 25 goals listed. They call on all organisations to log 52 hours each, and for individual volunteers at least 12 hours. Through these initiatives, the Rhodes University Community Engagement (RUCE) team hope to motivate and inspire members of the community to come together and become active and concern citizens of this region.
Cindy Deutschmann (from Makana Revive) and student Dimakatso Mashile, were given awards for their respective services to the community over the past year. Deutschmann logged 52 hours by clearing refuse during the recent municipal labour issue period, which allowed her to also make strong connections with her neighbours, who she did not know before. Mashile logged 16 hours by mentoring learners at Ntsika High School.
For more information about what you can do as an academic or student – you may contact Nosi Nkwinti at n.nkwinti@ru.ac.za or contact the RUCE office on: 046-603 7482 or visit their website on https://www.ru.ac.za/communityengagement/vukamakana/