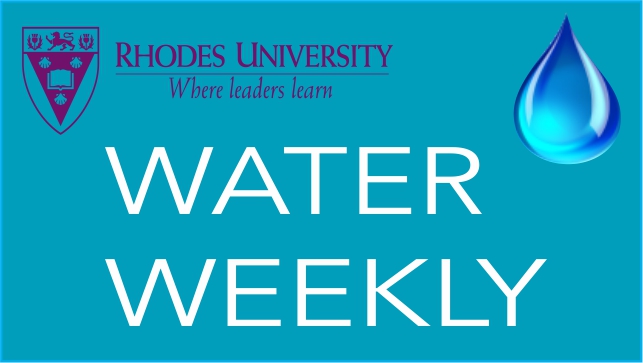 Welcome to our latest edition of Water Weekly.
Celebrating our own
Professor Tally Palmer from the Institute for Water Research (IWR) has been announced as the recipient of the 2018 Vice Chancellor's Distinguished Award for Community Engagement, for her ground-breaking work in ecological justice and water sustainability.
Prof Palmer knows that it is increasingly necessary to embrace the need for a diverse set of skills and expertise to tackle the mounting challenges of sustainable management of South Africa's water resources. By focusing on ensuring that water catchment research is used as directly as possibly to solve problems in water scarce regions, Prof Palmer's research has taken her out of the laboratory and into communities.
Prof Palmer's VC's Distinguished Community Engagement 2018 Award will be presented to her at Rhodes University's 2019 graduation ceremonies, and her IWR team will be invited to give a public lecture on their collaborative outreach initiatives at the start of Community Engagement Week later in the year.
You can find out more information here.
Settler's Dam, Howiesonspoort Dam & Waainek Water Works
Makana Municipality has explained that water can no longer be pumped from Settler's Dam, due to its low water level. However, Howiesonspoort Dam to Waainek Water Works will continue until those pumps start cavitating as well, which the Municipality expects to be towards the end of April. The West side of town is currently experiencing water interruptions due to pressure issues and throttling, and Makana Municipality expects this to continue over the next while. To help alleviate this, the municipality said it will be installing JoJo tanks all over town, with a focus on the high-lying areas, which are the most severely affected.
Moving water from East to West
The pump station that has been prepared to pump water from the East to the West is ready for testing this week, according to the municipality. Amatola Water, MBB and Makana Municipality said they are working on a plan to best manage the East to West water flow to ensure the least amount of disruption is experienced.
James Kleynhans Water Treatment Plant
The James Kleynhans Water Treatment Plant, which treats the water inflow/outflow to the East side of town is still running over-capacity, which is not sustainable in the long-term, explained Amatola Water. However, the Municipality has indicated that it is looking at some possible solutions to this issue. For the time being, however, Amatola Water said throttling is handling well and the situation is stable.
Water usage
Makana Municipality is urging residents to please continue reducing water usage as much as possible.
Water-saving tips
To help you reduce your water usage, here are some of the top tips we received recently:
Only wash plates when necessary - you don't have to put a plate in the sink if it only had a sandwich or some biscuits on it. Simply swipe the crumbs into the bin, and reuse. Or you can use paper plates.
Did you know that recycling plastics and other household waste actually saves water? This is because creating new products requires water and if you recycle then companies don't have to create new materials from scratch.
Speak to your friends, classmates, parents, family or community to see if they have any creative ideas to save water and share with us at communications@ru.ac.za.
Going forward
The Rhodes University community is reminded that it is not "business as usual". We are in the throes of a significant water crisis and only if everyone does their part, will we overcome this.
Thank you for working through these difficult times with us. Please keep the conversation about #SaveOurWater going at communications@ru.ac.za.