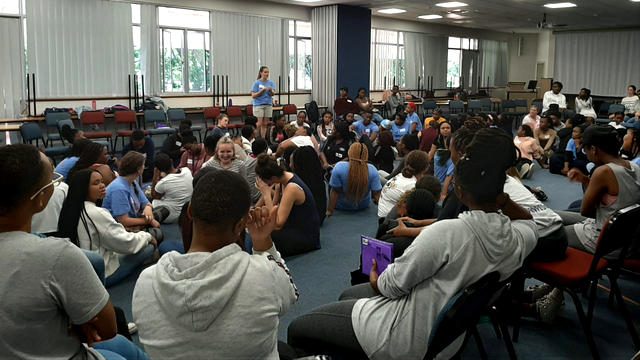 By Thobani Mesani, Rhodes University Community Engagement
Close to 600 students started with their volunteering this week, after two consecutive weekends of volunteer training for new and returning volunteers. The Rhodes University Community Engagement (RUCE) Division holds different training days each year for all students who have applied to be involved in any of the volunteerism programmes offered by the Division.
The purpose of these training sessions is to introduce students to principles and models of community engagement used by RUCE. The Division stresses that students need to recognise the importance of partnerships, mutually beneficial relationships and acknowledge already existing assets in spaces where they volunteer. Students should not go into volunteering with a 'saviour complex', as this creates unequal power relations.
During training students learn that volunteering is not just something they do in their spare time, but that it is central to their education and the graduate they will become – it is a process of learning.
The number of volunteers is set to increase even more, once the Siyakhana@Makana (S@M) programme kicks off. It will draw in students from residences, sports clubs and societies to start working on projects with various community partner organisations. The S@M training will take place on Saturday 29 February.
The Nine Tenths Programme, together with the Engaged Citizen Programme (ECP), are accredited Rhodes University short courses. Students who fulfil course requirements receive a certification at the end of the year.
Student volunteers in ECP also have an opportunity to do a Tutor Orientation Short Course offered by the Education Faculty and a Community Engagement Reading Club Orientation (CERCO) short course offered by the English Department. Through these courses, students receive in depth training to become effective participants in the community sites where they will facilitate tutoring or reading clubs.
Through community engagement, the University strives to produce more well-rounded students. As Rhodes University's Vice-Chancellor, Dr Sizwe Mabizela, stated, "One of the primary roles of a Higher Education institution in a society is knowledge generation and knowledge dissemination. The community must benefit from the quality of the University's research, teaching, and learning. Through community engagement, Rhodes University endeavours to expose our students and staff to the social realities of our local community (Makhanda)."