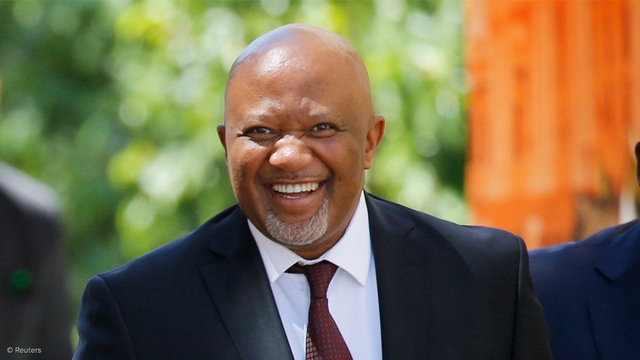 Rhodes University Business School held its 6th annual Archbishop Thabo Makgoba Annual Lecture this week and due to COVID-19 protocols, this prestigious event was held virtually. Former Deputy Minister of Finance, Mr Mcebisi Jonas, was the guest speaker. This event is held in collaboration between the Archbishop Thabo Makgoba Foundation, Rhodes Business School and Rhodes University.
As a values-based leader, Mr Jonas played a critical role during the anti-apartheid years, as he led a number of political activities both within South Africa and in exile. He played a key part in the establishment of the United Democratic Front (UDF) in the Eastern Cape. Upon his return from exile in the 1990s, he also became a important figure in establishing the ruling African National Congress (ANC) structures in the Eastern Cape.
Amongst other provincial ministerial positions, he served as a Chief Executive Officer in the Eastern Cape Socio-Economic Consultative Council between 1997 and 1999. He served as the Chief Executive Officer for the Investment Marketing of the Eastern Cape, which resulted in the establishment of the Eastern Cape Development Corporation (ECDC), Coega Industrial Development Zone and the East London Development Zone, between 1999 and 2000. He was the Chairperson of the Portfolio Committee for Human Settlement in the Eastern Cape Provincial Legislature between 2007 and 2009; before he was appointed Member of Executive Committee (MEC) for Finance between 2009 and 2010. He was later given the mammoth task of being the MEC for Economic Development, Environmental Affairs and Tourism until 2014, when he was appointed as the Deputy Minister of Finance. He resigned as a Deputy Minister and Member of Parliament in April 2017 and wrote a book about corruption titled After Dawn: Hope after state capture.
His Grace, Archbishop Makgoba opened the event by inviting the divine intervention of the Lord.
During his welcome remarks, Rhodes University Vice Chancellor, Dr Sizwe Mabizela said it was appropriate and befitting to ask Mr Jonas to address the annual lecture, as he is a leader who has lived and continues to live the ethos of values based leadership. "2Twenty-six years into our democratic dispensation, our nation finds itself lurching from one crisis to the next. There is disillusionment and disenchantment with the social, economic and political states of our nation. There is growing and intolerable corruption, a failing public school system, and poverty while other flaunt their ill-gotten wealth. These individuals are placed in positions of responsibility, yet they undermine and discredit the institutions created to strengthen, consolidate and defend the constitutional order. The looting of funds intended to address the challenges of COVID 19 pandemic took corruption in this country to a different level," he explained.
In his presentation, Mr Jonas said things were likely to get worse before they get better for the country. He called on all activists, leaders and citizens globally to work towards ensuring that the country gets through the transitional period with its core values intact.
"We need to combat the politics of fear and destruction that thrives in periods of turbulence. We need new politics built around authenticity, a new moral code and the belief that a better world is possible. We need leaders rooted in an unshakable ethical foundation to steer us through the COVID-19 pandemic, global attack on democracy and climate change," he said.
The former Deputy Minister said effective leaders needed a combination of attributes that include ethics and authenticity as a prerequisite and that leaders without these are dangerous. He stated South Africa needs a new vision development model. He said the current model, which is built around free market growth and expansive fiscal redistribution programmes of social grant, free basic services, housing and access to free basic education and healthcare is no longer delivering outcomes required for social progress and institutional stability.
Mr Jonas also acknowledged President Cyril Ramaphosa's stance in rebuilding the South African Revenue Service (SARS), the National Prosecuting Authority and Transnet. He vehemently rebuked government officials who were stealing money from government and those involved in the COVID-19 corruption.
He said corruption had the ability to compromise the legacy that was built since the dawn of democracy. He said social media is playing a huge role in making active leaders today. "We must continue to seek new ways to hold elected leaders to account, build a robust civil society and invest young value-based leaders to reverse the damage inflicted by this generation," he said.
When he was asked what prompted him to write his book, he said the debate in South Africa has become narrow and there were no big ideas coming from political parties. He wanted to take a different look and generate debate on the bigger issues.
Since the inception of the lecture, speakers have included: former Public Protector, Professor Thuli Madonsela; former President Kgalema Motlante; former First Lady Graca Machel; former Member of Parliament, Dr Makhosi Khoza; and Gift of the Givers founder, Dr Imtiaz Sooliman.