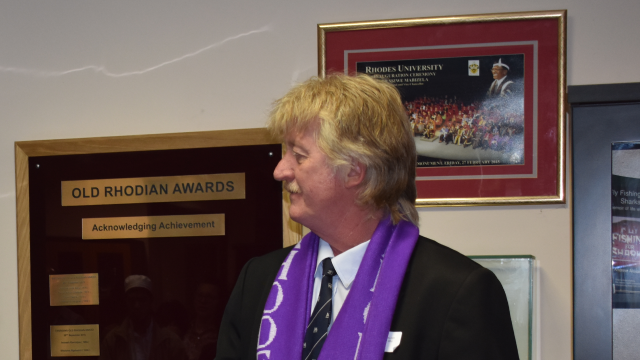 The Old Rhodian Union selection committee, under the Chairmanship of Professor Rod Walker, have selected three worthy recipients of Rhodes University's Distinguished Alumni Award 2020 namely, Professor Robert Morrell, Advocate Izak Smuts and Mr Brian O'Shea.
"Over the years, it has become evident that studying at Rhodes University has an impact on the calibre of individuals," explained Prof Walker. "Our graduates tend to be more aware of the benefits of working with diverse people as well as the importance of giving back to their alma mater to ensure others get the same experience."
Prof Walker credits the University's diverse student body, along with the flexible degree structure and emphasis on community engagement, for producing enterprising and altruistic graduates.
"All individuals honoured over the years have gone on to have an impact on whatever they pursue and make a difference," he said.
Professor Robert Morrell
As a B.Journ and then BA (Hons) in History graduate of Rhodes University, Professor Robert Morrell became a pioneer of Critical Masculinity Studies in South Africa. His path to the study of men and masculinities began in 1989 when he was teaching Education students at the University of Natal (now UKZN). He knew little about gender or feminism, and so began a journey of exploration and discovery which culminated in a new field in research in South Africa.
In 1997 he conceived of, organised and hosted the first masculinities conference in Africa. The Colloquium on Masculinities in Southern Africa ultimately generated a special issue of the Journal of Southern African Studies and an edited book. Prof Morrell's introductory essay remains to this day one of the Journal's most cited and downloaded articles.
Prof Morrell's masculinity work opened international doors, and he began to travel to conferences around the world and became part of a new global network of scholars, often termed 'profeminists'.
In January 2010, Prof Morrell started working in University of Cape Town's Research Office, to support mid-career researchers, promote inter-disciplinary research and African-centred research collaboration. There he began a research project around knowledge production. The geopolitics of knowledge production remains a relevant issue, and Prof Morrell developed reading groups and research projects to build a critical mass.
Advocate Izak Smuts
Adv Smuts has lived in Makhanda (formerly Grahamstown) for most of his life. His parents, both linguists, moved the family to Grahamstown in 1958 when his father took up an academic position at Rhodes University.
A Graeme College alumnus, Adv Smuts' time as a student at Rhodes University spans 1974 to 1979, where he obtained a BA (Hons) LLB. During his time as a student, he served on the Student Representative Council for three years and was elected its President in 1978. Also that year, he was awarded the Abe Bailey Travel Bursary, which saw him spend seven weeks in the United Kingdom.
His university career also saw him become a member of the liberal Progressive Federal Party (PFP), where he served as youth branch chair for Albany. In the 1981 general election, Adv Smuts contested the provincial council seat in the Albany constituency, on behalf of the PFP.
In 1980, Adv Smuts was admitted to the practice of Advocate in the Supreme Court of South Africa. He commenced practice at the Grahamstown bar in 1982, where he has practised ever since.
After the proclamation of the state of emergency in South Africa in 1986, he established the Grahamstown branch of the national organisation of Lawyers for Human Rights, serving as Chairman until 1989. In 1998, then-President Nelson Mandela signed letters patent according him the status of senior counsel.
Furthermore, during his practice at the bar, he has served at intervals as an acting judge of the High Court of South Africa.
Over the years, Adv Smuts has continued to associate with his alma mater by serving as an external examiner at the Rhodes University Law Faculty.
Mr Brian O'Shea
Born in Zimbabwe, Brian O'Shea's journey at Rhodes University spanned 1987 to 1990, in which time he completed a Bachelor of Commerce and an Honours in Business Administration.
Always active, he joined the rowing club at Rhodes University, which eventually earned him a selection for the 1990 Men's A Crew for the Inter-University Boat Race, which was the first year the University won the event.
In 1994, after moving to the United Kingdom, O'Shea broke his neck in a swimming accident, which left him paralysed from the shoulders down, with limited use of his arms. Changing his life and career trajectory completely, O'Shea became an advocate for disability equality.
"I firmly believe that my experience of the collegiate education at Rhodes University, combined with the experience of living, learning and working in Zimbabwe and South Africa at a time of crucial change, equipped me with the tools to achieve greater disability equality," he said.
O'Shea went on to work at fundraising for Spinal Injuries Association UK, where he was introduced to the subject of disability equality as a human rights issue.
Sometime later, after more surgery and rehabilitation, O'Shea founded Equitablity Training Ltd. His company delivered Disability Equality and Independent Living training courses to individuals with spinal cord injury, universities and colleges, private sector companies and the National Health Service (NHS) in the UK.
For the last ten years, he has been back at the Spinal Injuries Association in the UK as a Continuing Healthcare Adviser. He is the Lead on the charity's health and social care policy work, with a specific focus on NHS Continuing Healthcare, to improve access to critical health and social care funding for spinal cord injured individuals.
"There is no better way to say thank you to these individuals than to be recognised by their alma mater for making a difference," said Prof Walker. "It is clear from the recipients' comments when they receive the award, that they are immensely proud of having graduated from Rhodes University and being acknowledged by the institution that helped shape them."