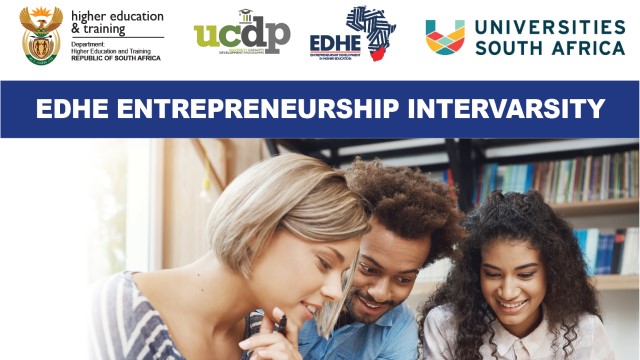 Four Rhodes University students have qualified for the regional round of the second annual Enterprise Development in Higher Education (EDHE) Intervarsity Competition and will be pitching their business ideas to judges next week, on 18 July 2020.
The Entrepreneurship Intervarsity 2020 consists of an easy online entry and three rounds: university internal rounds, regional rounds and the final round. All 26 South African universities compete.
Of the Rhodes University students who won the internal university rounds this year, two entrants qualified for the Innovative Business Ideas category and two entrants qualified for the Existing Businesses (General) category.
Next week, Kwena Mokwele will be pitching her G Connect concept, Siphesihle Phenyane will be demonstrating his Crate from Cigarette Waste idea, Ntobeko Songcata and Charles Arineitwe will team up to pitch their Pro'land Braai on the Move* model and Ongezile Mqokeli will be showcasing his Ubuhle App.
Winners of the regional rounds will be selected by a panel of expert judges and will then proceed to represent their regions in the national finals.
Last year, at the first-ever EDHE Intervarsity Competition, which was held at Nelson Mandela University, two Rhodes University students shone bright. Penang Tshirindza became overall national winner in the Innovative Idea category and Phemelo Hellemann won second place at Regionals in the Social Impact category.
This year, due to the COVID-19 pandemic, students have had to pitch their ideas via the online Zoom platform, within a time limit of three minutes. Those who could not connect, were allowed to send a three-minute pre-recorded video.
"I think it is important to realise that this year's Studentpreneurs are displaying tremendous resilience in the face of these difficult and unprecedented times," explained Suzanne Wolhuter, Technology Transfer Manager at Rhodes University. "Winning will mean that they can bolster their businesses and grow them in a 'COVID-19 proof' way."
The overall winner of the Entrepreneurship Intervarsity 2020 will be awarded R100 000 towards developing their business idea further and the coveted title of national Studentpreneur of the Year 2020.
"We are incredibly proud of what our Studentpreneurs have managed to achieve so far, especially given the limitations and restrictions imposed on them by the COVID-19 pandemic. They are a true inspiration and we wish them all the best for their regional round next week," remarked Senior Lecturer at Rhodes Business School, Dr Tshidi Mohapeloa.
* Since the publication of this article, it was announced that Songcata Ntobeko and Charles Arineitwe will be moving on to the final round for their Pro'land Braai on the Move concept. The finals will be taking place on 28 November 2020. Congratulations and best of luck for the finals! Thank you for making Rhodes University proud.