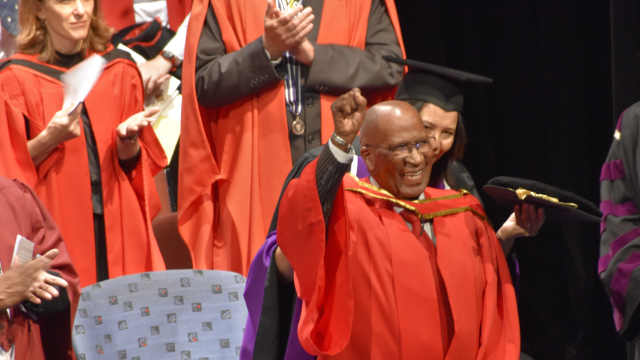 Rhodes University is deeply saddened by the death of one of the bravest and most committed freedom fighters against apartheid, Dr Andrew Mokete Mlangeni.
Dr Mlangeni, aged 95, died at 1 Military Hospital in Thaba Tshwane in Pretoria on Tuesday night, 21 July 2020, where he was admitted after experiencing abdominal pains.
Rhodes University conferred one of its highest honours on Dr Mlangeni, that of a Doctor of Laws (LLD) (honoris causa), at its annual graduation ceremony in April of 2018.
During his graduation speech, he said, "In line with the motto of the University: Strength, Courage, Truth, I am pretty confident that this University, which I join today as an honorary member, will continue to play its role to help transform our country into a nation that will counted the best amongst the nations of the world."
Born on 6 June 1926, Dr Mlangeni started working at a young age.
"I was born under the farm labour tenancy system. Which means from the day I was conceived, I was destined to be a future farm worker because of the labour tenancy system. A condemnation which many farm tenants' children are still subjected to in this day and age in our modern society. Indeed, it is not yet UHURU for the majority in our country," he said.
After his father tragically passed away, the family had to move off the farm. "Miraculously I escaped, not because of my own making, but because of the tragic event in my early life, the death of my father, the head of the house."
Popularly known as prisoner number 46764 in political circles, Dr Mlangeni spent years of unswerving and sustained commitment to the fight against apartheid. He embodied the values of selfless dedication to the cause of freedom, justice and human dignity.
Dr Mlangeni was among the first people to be deployed for the ANC military training wing Umkhonto WeSizwe outside the country. On his return in 1963, he was arrested after state witnesses told the court that he was one of the people responsible for recruiting and training an armed force. He was found guilty and sentenced to life imprisonment on Robben Island.
He said: "One of the biggest prisons we were afraid of being locked up in though, was the jail of ignorance. We had to demand to have access to education, a fight that was fought over a period of three years until it was granted 1967. Guess who was the first among the inmates to register to study? Some fellow called Andrew Mlangeni."
The freedom fighter spent 26 long years locked up in Robben Island as Nelson Mandela's next-door inmate neighbour. He was released in 1989, during the negotiations between the government and the African National Congress (ANC).
While on Robben Island, he obtained a degree in Political Science and Public Administration. He also graduated with a BA Honours in Political Science. Upon his release in 1989, he continued to study a law degree, which he unfortunately did not complete because of his work for the ANC preparing for the first democratic elections.
"My generation, and especially the comrades with whom I was locked up, among the first things we fought for the very first day we landed on Robben Island, knowing that we had all the time because we had to do time, was to fight for our right to study, the right to education," said Dr Mlangeni.
He referred to the now famous quote by his fellow prisoner and comrade, Nelson Mandela, who said, "Education is the most powerful weapon with which you can change the world."
"When Madiba uttered those words, he had a dream of a people who can really turn things around using education as the agency for change," Dr Mlangeni said.
He reminded the 2018 graduates to emulate the values of stalwarts such as Madiba and Albertina Sisulu. "The right to human dignity enjoins us to treat people with reverence and dignity. Their selflessness should be embodied by the whole world not only on their months of birth, but every day."
During his lifetime, Dr Mlangeni was the recipient of several awards including the ANC Isithwalandwe, the highest honour awarded by the ANC to those who have made an outstanding contribution and sacrifice to the liberation struggle, as well as The Order for Meritorius Service Class 1 (Gold) in 1999 (then the country's highest honour, awarded to South Africans who had rendered exceptional public service).
"Dr Mlangeni was an embodiment of humility and gentleness. He was integrity and kindness personified. He was an epitome of noble commitment and dedication to social justice, freedom, human rights and human dignity. He was a quintessential gentleman. Our nation and humankind owe Bab' uMlangeni an unpayable debt of gratitude," said Rhodes University Vice-Chancellor, Dr Sizwe Mabizela.
Rhodes University would like offer heartfelt condolences to the Mlangeni family and friends. He was a self-sacrificing struggle veteran who dedicated his life to fighting for the freedom of the people of South Africa.