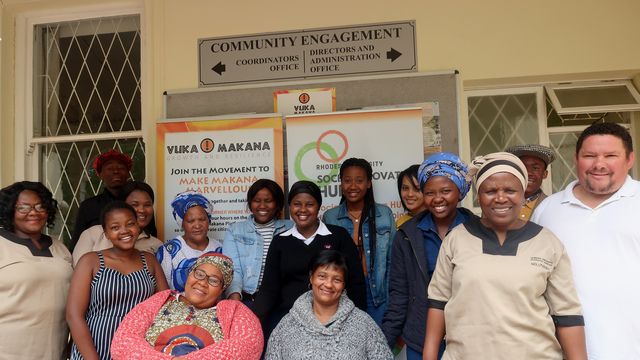 Rhodes University support staff members involved in the University's Vulindlela programme are excited to welcome their children to Rhodes University this year. Seven learners whose guardians were involved in the programme produced exceptional matric results and have been accepted to enrol for their first year of studies at Rhodes University.
The Vulindlela programme is designed for Rhodes University support staff in salary grades 1-5 and is facilitated by the Rhodes University Community Engagement Division. The aim of the programme is to equip parents with the necessary skills that will assist them with understanding their children's educational needs. Their children are then put in academic programmes where they are mentored and tutored by student volunteers.
Sweetness Mtshelu, who works at Founders Hall, said that she is delighted with the benefits of the programme. She has been part of the programme since her daughter, Sesethu, started high school. Sesethu will study towards a Bachelor of Commerce degree.
The staff from the Vulindlela programme whose children will be at Rhodes University this year are:
Sweetness Mtshelu – Food Services (Founders Hall)

Thozama Kwenxe – Housekeeping Services (Founders Hall)

Luleka Ndzipo – Food Services (Drostdy Hall)

Noluthando Kasi – Food Services (St Mary's Hall)

Noluthando Ngantweni – Housekeeping Services (CHERTL)

Ray Cannon – Electricity Department
The students are:
Sesethu Mtshelu – Bachelor of Commerce

Liyema Kwenxe – Bachelor of Arts (Extended Studies)

Liyema Ndzipo – Bachelor of Social Sciences

Lisakhanya Kasi – Bachelor of Arts (Extended Studies)

Simamkele Ngantweni – Bachelor of Arts

Renita Cannon – Bachelor of Social Sciences

Bulelwa Matiwane – Bachelor of Arts