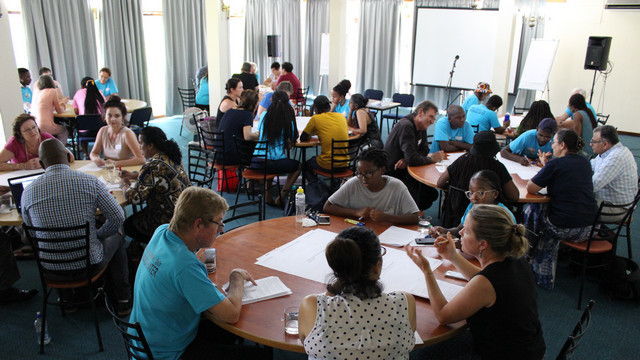 Plastics, electricity, paper and water usage under sharp spotlight
Rhodes University students, academics and administrators, at a well-attended workshop, committed to the adoption of new, ambitious sustainability indicators to measure institutional performance against revised annual targets for plastic, electricity, paper and water usage.
Opening the workshop, Vice-Chancellor, Dr Sizwe Mabizela, threw his weight behind the call for stronger and more drastic action towards enhancing the University's performance in ensuring greater sustainability.
He referred to environmental sustainability as the fourth pillar of the University's core purpose alongside teaching and learning, research and community engagement. "The responsibility for developing a sustainability culture and practice lies with every member of the Rhodes University community."
"Sustainability by its nature is interdisciplinary. The development and implementation of an adequate sustainability plan will require a wide range of skills, expertise, and interests." Mabizela added.
"As an institution whose core purpose is learning and the dissemination of knowledge, Rhodes University is well-positioned to contribute to the global project of pursuing sustainability."
"Accordingly, we are affirming our commitment to building a community in which sustainability is seen as a way of life, collectively and individually, and to encourage development of a curriculum in which sustainability has a central place in all that we do within Rhodes University and by extension, the Makhanda community," said Mabizela.
Among the targeted sustainability measures are: immediate elimination of bottled water from University events; substitution of electronic document packs for printed ones for all meetings; the development of effective waste diversion and recycling programmes; installation of smart water meters at residences to monitor and manage water allocations; effective utilisation of grey and rainwater for all buildings. The University also banned the use of styrofoam water containers at exam venues in 2019.
Quoting an American Indian proverb, Director for Institutional Research, Planning and Quality Promotion, Dr Remi Nnadozie, reminded participants that "we do not inherit the earth from our ancestors; [but] we borrow it from our children."
"The Institutional Development Plan and the Environmental Sustainability Policy are due for review this year and some of the ideas/information from the workshop will provide valuable input for the review. We have to ensure that the IDP includes clear indicator/s and targets for plastic, water, paper and electricity," Dr Nnadozie said.
"I was pleased to see so many different Divisions and departments working together in a constructive way to build the sustainability of Rhodes University into their personal and collective lives. I think we made a truly exciting start to this journey and there seems to be a real commitment from those who attended to carry the process forward," said Margaret Wolff from the Institute for Water Research.
The Institute for Water Research in collaboration with Environmental Learning Research Centre, the Department of Environmental Science and Institutional Research, Planning and Quality Promotion hosted the workshop.
A follow-up meeting is planned for later this month.