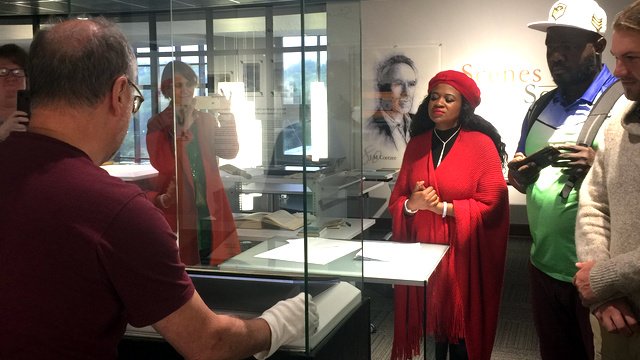 The Rhodes University Anthropology Department's newest course, the Postgraduate Diploma in Heritage Management (PDHM), opened with an exclusive 'behind the scenes' tour at Amazwi Museum.
The tour followed curators as they made final preparations for the 'Scenes from the South' exhibition celebrating the life and work of renowned South African author, JM Coetzee.
Coetzee, who turned 80 this year, is South Africa's most widely-cited, studied and awarded author. Students were treated to the unique experience of seeing his Nobel Prize for Literature unpacked from its specially sealed packaging, which was shipped from the prestigious Harry Ransom Centre in Texas for the exhibition.
Formerly known as the National English Literary Museum (NELM), but now with a new mandate to be the custodians of the literature of all of South Africa's official languages, Amazwi was a perfect place for PDHM students to see the importance of heritage preservation in action.
It is also the first museum building in South Africa to receive a five-star rating from the Green Building Council of South Africa. "This places us on the world stage in terms of exhibiting," said Amazwi Director, Beverly Thomas. "Coordination has taken place over three continents, which is quite something."
Furthermore, students on the course will have the opportunity to take up placements at Amazwi during their third term.
"Heritage is an area of growing economic activity, but more importantly, a space of deep emotional significance at both the personal and collective level. This course aims to hold that tension between the economic promises of heritage and its place as the key to people's sense of belonging, making critically engaged and pragmatic future practitioners," explained Dr Dominique Santos, Coordinator of the course and Senior Lecturer in Anthropology at Rhodes University.
The one-year, National Lottery-funded course promises to be an important part of developing the fast-growing local heritage sector.