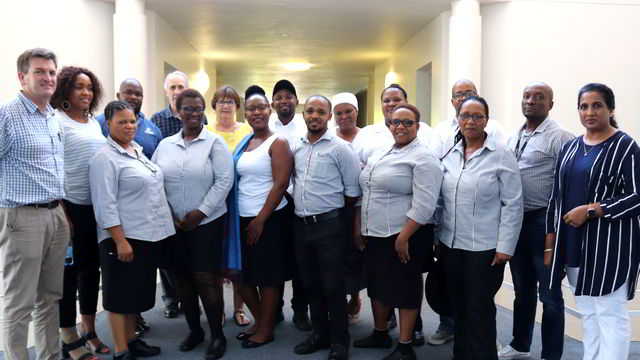 By Luvo Mnyobe, fourth year BJourn student
Rhodes University recently launched two learnership programmes for its support staff, supported by the Education Training and Development Practices Sector Education and Training Authority (ETDP SETA), the Production Management Institute (PMI), and Rhodes University.
The launch of this programme marks first time that Rhodes University has had two learnership programmes running simultaneously.
These learnership programmes will take on 28 support staff from Food and Catering services and two from Grounds and Gardens. Staff will be participating in the learnership on a part-time basis while continuing to work at the University.
Twenty of the staff members will be completing an NQF Level 1 qualification in Food and Beverage Handling Process, while the other ten staff members will be studying towards an NQF Level 4 in Generic Management of Food.
Speaking at the launch, the Deputy Director of Residential Operations at Rhodes University, Jay Pillay said that these learnerships were an opportunity for the University to invest in the upskilling and development of its staff. She emphasised the importance of the work done by Food and Catering staff at the University.
"Through their work, our catering staff deliver over 12 000 meals to students and wardens in the residence system. The work that they do is extremely demanding and opportunities like this are very rare," said Pillay.
She added that developing the skills of its employees in order to maintain the quality of services offered to students in the university's dining halls is of utmost importance for Rhodes University.
However, she also reminded the staff present that the learnership would not only benefit the University. "This is an opportunity for your own development, within and outside your work at the University," she said.
The learnerships will be funded by ETDP SETA, which has set aside almost R26 000 for each of the participants. This amounts to over R780 000 for all those taking part in the programme. PMI will provide the training and Rhodes University will serve as host.
Luthando Ndziweni, Skills Development Officer for the ETDP SETA in the Eastern Cape, gave staff members a brief outline of what the SETA does and how it works, before wishing them well on their learnerships.
The learnership programmes will run until August 2020, when the staff members will be awarded with their qualifications upon completion of the learnership.