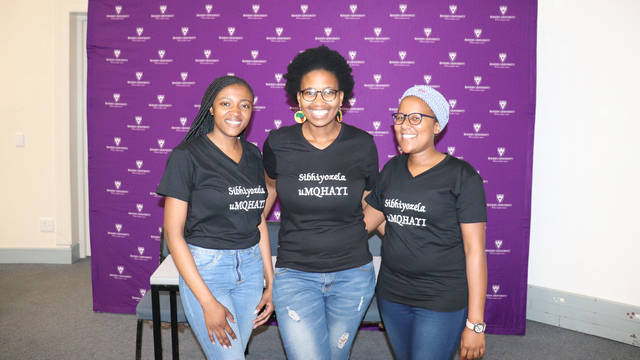 This prestigious event is held annually to celebrate the life and the works of Samuel Edward Krune Loliwe Ngxekengxeke (S.E.K.) Mqhayi, who is regarded as the "Father of isiXhosa Poetry". The brains behind this prestigious event is the former Senior Lecturer of the African Languages Studies Section, Dr Mhlobo Wabantwana Jadezweni, who is now a visiting fellow in the School of Languages and Literatures, at Rhodes University.
Mqhayi was a teacher, Xhosa dramatist, essayist, critic, novelist, historian, biographer, translator and poet whose works are regarded as instrumental in standardising the grammar of isiXhosa and preserving the language in the 20th century. He was born on 1 December 1875 near Gqumahashe in Alice.
One of the organisers of the event and Head of the African Languages Studies Section, Mr Msindisi Sam, said the committee decided to hold the event online instead of cancelling it. He said the significance of the event and the fact that it has become part of Rhodes University calendar motivated them to carry on with the event. He said: "Having the event online helped us reach an extensive audience. We had people from University of Cape Town, Stellenbosch University, University of New York and we even had the pleasure of having the former Vice Chancellor of Unisa Professor Barney Pityana attending. We normally only have attendees from the universities in the Eastern Cape Province. We also had an extensive number of members of the Mqhayi family and extended family in attendance, yet when we have it on campus we usually only have about three to five family members."
Subject Head of Creative Writing, Dr Hleze Kunju said the event attracted over 70 people on Zoom and they received "an overwhelming response on Facebook. The African Languages Lectures, such as Sabelo Sawula, Rendani Molubo and Sthembele Johnson did an excellent job in planning and marketing the event. These are young people, this also shows the impact that Mqhayi still has. His writing was way ahead of his time. The first isiXhosa novel was written and published by Mqhayi, his main aim in this novel was to encourage youth to support black leaders, and that is still relevant to this day".
Makhanda-born award-wining scribe and government employee working in the office of the President, Dr Siphiwo Mahala was the guest speaker at the event. He said even though Mqhayi passed away exactly 75 years ago, he remains one of the most respected African intellectuals. "He was instrumental in standardising the grammar and orthography of the isiXhosa language. The hallmark of his contribution to the development of the isiXhosa language and literature is poetry, is in both its oral and written forms. This is a tradition that has been handed down from generation to generation. It is for this reason that as we reflect on the life of S.E.K. Mqhayi, we also acknowledge those who carry on his legacy," he said.
Dr Mahala said the life of S.E.K. Mqhayi teaches us to be proud of who we are – our languages, culture and traditions. "He established an intellectual practice where he dedicated his life to knowledge production. Most importantly, what stands out is his courage to venture into unexplored paths and created new pathways for us to follow. Perhaps, the pertinent question that can be asked at this stage is who are the Mqhayis of our generation who aspire to the same intellectual practice?" he questioned.
He further suggested that there are a number of other interventions that can and should be made in our efforts to sustain the legacy of S.E.K Mqhayi. "We often wonder where the new writers who will serve as the vanguards of our indigenous languages are. The truth is, there are many young aspirant writers with great potential, but they vanish in thin air because of lack of support mechanisms. We need to create publishing opportunities and alternative distribution channels for new writers. Books must be easily accessible to communities so that reading becomes part of our national pastime," he said.
He paid homage to two poets who passed away recently, Bonisile Nqweniso and Zindzi Mandela. He said he considered Nqweniso as one of the leading proponents of oral poetry in the Makana District and he looked up to him as he was growing up in the streets of Makhanda. He described Mandela as a courageous woman of power, more well-known as a political activist than as a poet. "She was named after the daughter of S.E.K. Mqhayi, Zindziswa, because her father, Nelson Mandela, was a great admirer of the bard. The former Statesman writes extensively in Long Walk to Freedom, about his profound encounter with Mqhayi when he was a student in Healdtown," he added.
Mr Sam attributed the success of the event over the years to the founder Dr Mhlobo Jadazweni. He challenged the youth to pay more interest in the works of Mqhayi as it speaks to the issue of language and importance of mother tongue. "I would also like to acknowledge other colleagues from other departments who use isiXhosa in their teaching. At the Department of Statistics we have Thina Maqubela who uses isiXhosa and does YouTube videos in isiXhosa. That contributes to the work that we do. At Economics and Economic History, we have Professor Jen Snowball, who allows students to express themselves in isiXhosa," he concluded.
As part of Rhodes University's transformation agenda, the SEK Mqhayi Day is held on 29 July annually, which marks the anniversary of his death in 1945