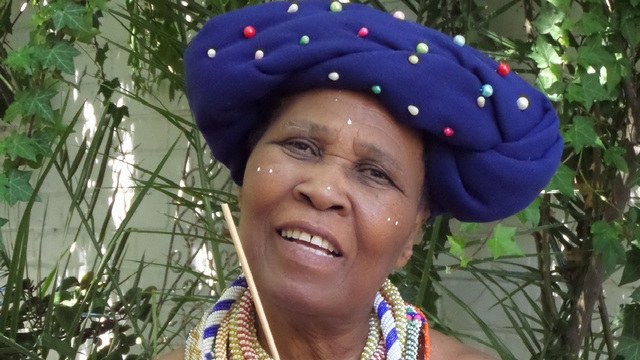 Rhodes University will, at its 70th graduation ceremony in April, confer an honorary doctorate in Music on one of South Africa's most celebrated artists, teachers, composers and story-tellers, Madosini Mpahleni.
Instead of the traditional speech that Honorary Doctorates give at graduation ceremonies the legendary Xhosa musician is expected to respond with an 'artistic act' that is to involve members of her ensemble – a first in the university's graduation history.
Madosini is to be honoured alongside other luminaries: Father Michael Lapsley, Professor Patricia Ann Whitelock and Mary Maria Burton.
Madosini Mpahleni is a South African musician who is known for playing indigenous instruments such as Uhadi (calabash resonated bow), Umrhubhe (mouth resonated bow) and Isitolotolo (Jewish harp). She is a well-known composer, story-teller, poet, singer and teacher. She was brought in to the University of Cape Town music department to teach students. She made recordings with Amampondo, which reached record shops in several countries in Europe and America. She has performed at musicology conferences including the first International Bow Music Conference held in Durban in 2016. The legendary musician will also be performing at this year's National Arts Festival in Makhanda.
Father Michael Lapsley is a South African Anglican priest and social justice activist. He was born in New Zealand, ordained in Australia and arrived in South Africa to pursue his studies. In 1976, during school protests, he was expelled from South Africa for speaking out on student issues and went to Lesotho to continue his studies. That is where he joined the African National Congress (ANC) and became a Chaplain in exile. In 1990, he moved to Zimbabwe and just three months after Nelson Mandela's release, he received a letter bomb from the apartheid regime in the guise of religious magazines. He lost both his hands, lost the sight in one eye and was seriously burnt. Father Lapsley returned to South Africa in 1992, became a Chaplain of the Trauma Centre for Victims of Violence and Torture in Cape Town and assisted the country's Truth and Reconciliation Commission (TRC). His work led to the establishment of the Institute for Healing of Memories (IHOM) in 1998 in Cape Town.
Professor Patricia Ann Whitelock is a British-born Astrophysicist with a dual British-South African nationality. A former Director of South African Astronomical Observatory, a Fellow and former Vice-President of the Royal Society of South Africa, a member of the Academy of Science of South Africa and a member and a former President of the South African Institute of Physics (SAIP). Prof Whitelock has been influential in maintaining the position of South Africa as a centre of astronomical excellence. She helped to establish the National Astrophysics and Space Science Programme and she served as the first Chairperson of its steering committee between 2002 and 2013. She was also one of the key drivers behind the successful bid by South Africa to host the International Office of Astronomy for the Development of the International Astronomical Union. Importantly for Rhodes University, Prof Whitelock persuaded Professor Justin Jonas to take the lead in driving South Africa's involvement in the Square Kilometre Array project
Mary Maria Burton was born in Argentina and moved to South Africa at the age of 21. She devoted herself to sustained and self-voluntary services by getting involved in soup kitchens at the Cape Flats. She worked with different organisations such as the Surplus People's Project and the National Council of Women. She joined the Black Sash in 1965, a human rights organisation advocating for social justice in South Africa. She was elected the President of the Black Sash in 1986, as a Provincial Electoral Officer of the Independent Electoral Commission (IEC) in the Western Cape for the first democratic elections and was elected the Commissioner of the Truth and Reconciliation Commission (TRC) in 1995. She received the Order of Luthuli from the former President, Thabo Mbeki, and the Order of Disa (Western Cape's highest award) and Reconciliation award by the Institute for Justice and Reconciliation. In December 2000, she was part of a group of citizens who launched the "Home for All Campaign". The campaign called on white South Africans to recognise the benefits they had received, willingly or not, from the systems of apartheid and colonialism and to take some action to contribute to the new society.
The graduation ceremonies will take place from 02 to 04 April 2020 at 1820 Settler's Monument, Makhanda (Grahamstowns).