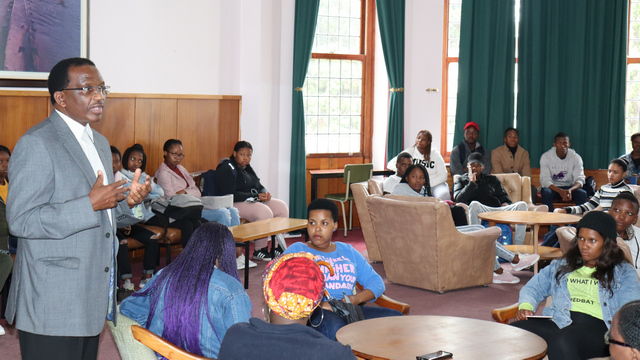 Rhodes University Vice-Chancellor, Dr Sizwe Mabizela officially welcomed almost 100 first year local (Makhanda) students as part of the University's ongoing initiative to create access for local communities into the University yesterday. These students have come through the GADRA Matric School while others benefited from Nine-Tenths mentoring programme.
GADRA Matric School is a second chance school for learners who seek to improve their marks in selected National Senior Certificate subjects with the goal of acquiring the required points to gain access to universities. It is the biggest feeder to Rhodes University and this year 70 learners from the school were accepted into the University.
The Nine-Tenths is a mentoring programme geared towards equipping matric students in selected local schools to cope with their final year of school and to pass to their full potential. Pupils are given one-on-one attention from a Rhodes University student through guided and structured contact sessions.
"I am beside myself with joy and excitement in seeing so many young people from our local schools gaining admission at Rhodes University. This is a realisation of my long-held and deeply cherished dream to create pathways to a better and brighter future for the youth of our city. This initiative is intended to improve the quality of teaching and learning in the schools around the Makhanda area. When I look at students coming from the local schools, I can say without a shadow of a doubt that this intervention is working and it feels good that we are making a difference," Dr Mabizela explained.
The Vice-Chancellor urged the new students to take full advantage of the opportunity of studying at a prestigious institution such as Rhodes University. He cautioned that the transition from high school to university would not be easy and success is dependent on discipline, dedication and hard work. "Failure at university does not just suddenly happen in June or in November [exams], but from day one when you neglect your work and skip lectures. Before you know it, you have a mountain of work before you, and it accumulates very fast," he added.
He assured the students that the University did not "do them any favours" when they were admitted, as each one successfully met the stringent requirements for admission at the institution. "However, I should warn you that even if you had five distinctions in your matric, you must put that behind you because you need to work hard here," he cautioned.
The VC also used the opportunity to alert the first years about the dangers of reckless behaviour, sexual harassment and rape. He firmly told them: "Do not be pressured into being sexually active, because you may end up with an unplanned pregnancy or get HIV and other sexually transmitted diseases (STDs). Young men, you have no right to interfere with the bodily integrity of another person. If you commit an offence of rape or sexual harassment, we will apprehend you, prosecute you and permanently exclude you from Rhodes University. Sexual and gender-based violence has no place at Rhodes University. We are working with other universities to ensure that a student who is excluded from one university for sexual harassment or gender-based violence is not accepted at any university in the country. If you fall victim to such an offense, report it so we can act very firmly and decisively."
The Vice-Chancellor told the students that mental health challenges, depression and anxiety had become prevalent in institutions of higher learning in South Africa and elsewhere. He said that it was important that we destigmatised mental health challenges. He assured the students that the University had support services to assist those who were experiencing mental health challenges. "Do not suffer in silence. We are here to support you," he told them.
He reminded then that being at University afforded them much more freedom than they had had before. He told them that, among other things, they will be free to make choices and decisions for themselves. "Every decision and every choice has a consequence," he told them. He warned them that much as they were free to make their own decisions and choices, they were not free from the consequences of those choices and decisions.
A 2019 Gadra matric pupil, 22-year-old Vuyisa Sigonyela has enrolled for a Bachelor of Arts in Human Kinetics and Ergonomics, English and Linguistics at Rhodes University. He said his journey has not been easy since passing his matric in 2014 at David Mama High School in Mdantsane. Due to his low marks, he could not apply at Rhodes University and he decided to go work as a Missionary in West Africa countries. After being admitted at Rhodes University, he says he has been feeling "excited, satisfied and ready".
The Vice-Chancellor acknowledged all those who have played a role in ensuring that the quality of teaching and learning in our local schools improved. He will be having a welcome dinner with these hard-working new students and all those who are involved in the University's Schools Initiative next week to further celebrate them.