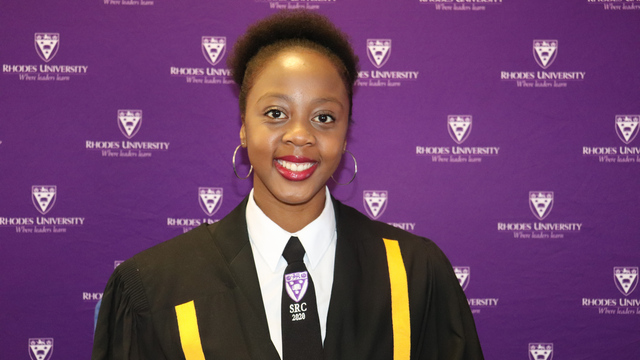 In an unprecedented follow-up, Rhodes University Student Representative Council (SRC) was this year dominated by women yet again. In the 110th SRC Council election ceremony, which took place on Friday, October 09, 2020, 14 out of 16 SRC Councillors are women. They will be led by 23-year-old Leboghang Makghoshi Nkambule.
Leboghang is a Political and International Studies Honours student who is serving in the current SRC body as Community Engagement Councillor. She hails from Mpumalanga in a small town called Hendrina. She was raised by her grandparents and learnt to be passionate about socioeconomic issues from a young age, inspired by her grandmother's feeding scheme. She moved to Pretoria at age 11, where she encountered what she described as a "culture shock". "I was used to being taught in isiZulu, but in Pretoria I had to use English," she said.
She matriculated from Hoërskool Overkruin in 2016 before coming to Rhodes University. "I have always loved Rhodes University, since I heard about it in Grade 8. I have a cousin who was studying here and would always tell us about this prestigious University. I told myself that I also want to study at Rhodes University and I did not even apply at any other university," she explained.
The incoming President is a first generation graduate at her home. She recalled that campaigning during the national lockdown was not easy as everything had to be done virtually. "As a person who is not very good with technology, I had to learn quickly and enter into a space I was uncomfortable in. I learnt the importance of consistency, creativity and innovation around campaigning," she said.
She said her tenure as a Community Engagement SRC Councillor taught her the importance of servant leadership, sustainability and working together for a common goal. "I am taking a lot of principles that I have leant through community engagement to presidency," she added. Leboghang said there is a growing misconception that seeks to undermine women in leadership positions and it needs to be uprooted.
"We ought to be very cognizant of the society we live in, in terms of women having never been seen as deserving players in structures of leadership. There is a lot of expectations that lead to maternal politics when women are elected to leadership positions. There is an expectation that women cannot get upset or show emotion. There are a lot of the stereotypes that we need to change. You would think that within an institution of higher learning, people would be progressive in their thinking. But when you get into these positions, you get undermined a lot. I really think, as an SRC, we need to dismantle a lot of these barriers and stereotypes. Our leadership should speak beyond our gender or sexual orientation," she said.
However, Leboghang makes it clear that, although the SRC is saturated with women, it does not mean only women's issues will be addressed. "I am a student before I am an SRC President. I am a black young woman and a poor student as well. Students need to understand that I was selected in this position to represent all students, because I am a fellow student. As the SRC, we do not exist in a microcosm of superiority, we are all still students," she said.
She also addressed the expectation from students that the SRC must fight against the management. She said as a Community Engagement councillor she has good relations with her stakeholders.
"I have seen the substance that comes from having engaged leadership towards solutions. We can still take the narrative of radicalness as our last stance, but we need to co-exist in these structures and have good working relationships, because these relationship equip us as student leaders for the future," she said.
Leboghang urged students to desist from what she called "keyboard activism" and rather send emails to the SRC and send direct messages on social media, as a way to address everyone's concerns. She said the students in 2021 will get an empathetic SRC that is adaptive and responsive to the needs of the students.
The outgoing SRC President, Katlego Mphahlele congratulated Leboghang. She said her victory is a personal triumph and a historic achievement for women. "I have witnessed her resilience, hard-work and professional character coming into play, which I believe are some of the main attributes of a good leader. I have no doubt that under her able leadership the 2021 Council and the student body of Rhodes University will be led into newer and greater heights," she said.
As the incoming Community Engagement SRC Councillor and one of two men in the 2021 SRC body, Lukhanyiso Cezula said he looks at the newly-elected SRC as competent leaders, regardless of their gender and sexual orientation. "Looking at countries that have had best responses to the current global pandemic, such as New Zealand and Germany, all have women at the helm. That speaks volumes in terms of breaking down the stereotypes that women are not capable of leading. Rhodes University students continue to show that they have enough confidence in women to lead the SRC," he concluded.
The rest of the 2021 Student Representative Council are: Vice President, Hlumela Mpiti; Secretary General, Mitchelle Makokove; Treasury General, Lindi Gqamana Mngeni; Academic Councillor, Lerato Leboho; Activism & Transformation, Nyasha Mwenye; Environmental Officer, Milca Matariro; International Affairs, Taonga Phiri; Media Officer, Isipho Ngutyana, Oppidan Councillor, Bianca Mclean; Projects Manager, Tinashe Hlako; Residence Councillor, Njabulo Mkhulisa; Student Benefits, Zandile Gcumisa; Sports & Societies, Bongeka Dyantyi and Postgraduate Affairs, Vuyelwa Moyo.