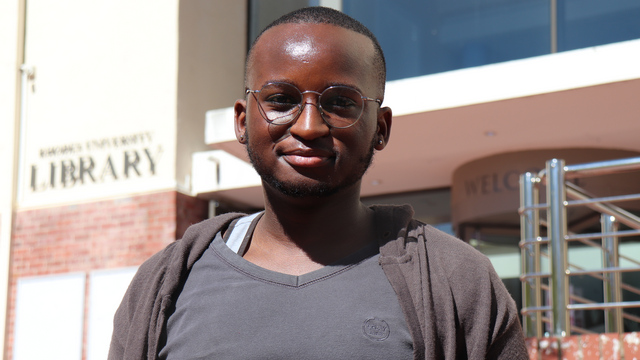 Every year, the Mail & Guardian searches for the 200 most outstanding young South Africans and celebrates them. This year, the newspaper received about 8 000 nominations, and 10 current and former Rhodes University students featured on the list of 200.
Current Sociology Master's candidate, Esihle Lupindo won in the Education category. He said when he initially received the email alerting him of this outcome, he thought it was a prank and ignored it. Even when he received a call from Mail & Guardian a short while later, he still struggled to process the news. "It is has not really sunk in yet. Although I can clearly see and hear people talking about it, it feels like a dream. I am honored to be recognised among the best. Many of the other Top 200 are people I admire and look up to, so it is strange to be considered among them. I am now on the journey to discover what this means for me," he said.
Esihle, 23, is a writer and a poet who has been published by the Daily Dispatch and the National Institute of the Humanities and Social Sciences. He advocates for equal and accurate representation of black queer people. He completed his undergraduate and honours degree in sociology at Rhodes University, and is currently studying towards his Master's. His research is aimed at merging the past with the present while contributing to the future of black queer scholarship. He is passionate about social justice and has been published in local publications The Daily Vox and Careers Magazine. He is also an associate of Nalane for Reproductive Justice as part of a team that advocates for women's reproductive rights.
Rhodes University alumnus, Kate Solomons won in the Health category. She is an internship co-ordinator at the Trauma Clinic Foundation, an organisation that provides counselling for adolescents in underprivileged government high schools in Cape Town. Recently, she has developed a pro-bono counselling initiative through the clinic, offering individuals across South Africa access to virtual counselling and support during the national lockdown. Her own life journey has helped her in her counselling practice, specifically when it comes to addressing traumatic stress and how to develop healthy coping mechanisms and self-care routines. A particularly important lesson is that it is okay to ask for help.
The 25-year-old Kate's relationship with Rhodes University began in 2012, when she enrolled for a Bachelor of Arts degree, majoring in Psychology and History. She pursued an Honours degree and graduated cum laude in 2017. She was awarded half-academic colours, full-academic colours as well as a Rhodes University Merit Masters Scholarship whilst studying. At this moment, she is completing her Masters of Social Sciences in Psychology at the University of Cape Town (funded by the Mandela Rhodes Scholarship). "Honestly, I am just so grateful to be honoured among such talented, hard-working, and wonderful individuals. I feel that this means that I too, am a change-maker, and making a real difference in my community," she said.
In 2014, Ms Solomons was invited into the Golden Key International Honour Society for her excellent academic achievements. In 2015, she was identified as a high-achieving university student in the field of Psychology, and was subsequently invited to attend an international delegation in some of the world's most prominent and important centres of Medicine & Science in the United States of America as part of the International Scholar Laureate Programme. In 2017, she was identified as one of Africa's "Brightest Young Minds", where delegates who are chosen were between 20 and 35 years of age and had demonstrated their commitment to positive social change through their actions. Only 100 individuals out of a pool of 1000 applicants are invited to the delegation each year.
Winner in the category of politics and government, Nondumiso Mbambo, studied Bachelor of Social Science in 2008 and studied LLB degree and finished in 2012 at Rhodes University. She is working in the political entrepreneur space, focusing on people development from a public leadership perspective. She works as a Development Manager at Apolitical Foundation Southern Africa, which is a non-profit company which supports emerging leaders between the ages of 20 and 45 who want to run for office or transition to leadership roles in government and the public service. The focus is on personal leadership and public purpose, ethics and values and is underpinned by a high-level mentorship programme. "Our annual programmes identify and support young candidates, women and other political "outsiders" who wish to transition into public service, but lack the network and personal development opportunities to do so on their own," she explained.
She described her win as an honour. "To be honest, I underestimated what it means to have made it on the list. It only dawned to me when the list was announced and I experienced people's reactions, calls, and congratulations. I generally struggle to celebrate myself or to see how far I have come. I wake up every day and do my work without realising the impact my work has on my own development, as well as on other young people. Our country has an abundance of exceptional young people doing amazing things. I have the greatest privilege through my work to meet and engage with them. It's such a rewarding experience that gives me hope that the future of our country is in good hands. To also be recognised amongst some of the people that I look up to is truly phenomenal. I am deeply grateful for the recognition," she said.
She advised young people to be genuine to themselves. "I always hope that in everything I do, I show up as my most authentic self. I can't imagine trying to be anyone else but myself. I also would say young people should have curiosity and wonder. When the time is right, they too will make the list. Although one's identity and worth is not defined by any list, it does serve as a reminder that they are doing well and they deserve to be recognised. It's a source of encouragement," she concluded.
Other Old Rhodian winners are: Siseko Kumalo, Nosipho Mngomezulu, Mlamuli Nkosingphile Hlatshwayo, Sizi Matthews Botsime, Neo Baepi, Yusuf Omar and Sinal Govender. Rhodes University warmly congratulates all the winners and wishes them well in all their future endeavours. Rhodes University is indeed an institution "where leaders learn".
For more information on the Mail & Guardian Top 200 Young South Africans, go to: https://200youngsouthafricans.co.za/