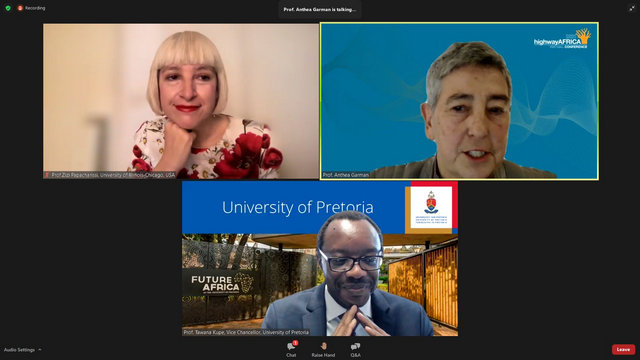 On 21 June 2021, Highway Africa started its virtual conference on the perils and promise of platformisation for Africa with an introduction and welcome from Dr Sizwe Mabizela, Vice-Chancellor of Rhodes University.
Professor Zizi Papacharissi, Head of the Communication Department at the University of Illinois-Chicago, gave the initial keynote. Her work focuses on the social and political consequences of online media. She is the founder and current editor of the open-access journal Social Media & Society and recently released her tenth book, After Democracy: Imagining our Political Future.
According to Prof Papacharissi, media platforms and messaging have a 'tone' and 'pace' to them, which can evoke a certain mood or feeling. She likens this to music, which is well understood to evoke feelings and emotions in people.
The pace used to tell a story is defined by the repetition and intensity of how the story is told, and in this way, journalists have control over how stories are told and their effect on readers. This then impacts how much mobilisation can be garnered from society. Prof Papacharissi used elections and the COVID-19 pandemic to explain how this effect can work to mobilise readers into action.
In discussing the tonal impact of social media, she challenged the audience to think about how intensity and repetition affect behaviour and the spread of information. Prof Papacharissi believes that if we want to change how people behave, we must renegotiate the tone that institutions use.
Ethically influential journalists and people that have been shown to have a successful 'tone' capable of changing the behaviours of their readers share certain commonalities, including a distinct digital footprint; they support connection and not collective action necessarily; they are empowered by effective opinions and facts, and they disrupt dominant political narratives.
"Impact is symbolic, agency claimed semantic, power liminal." These were the words italicised in Prof Papacharissi's presentation. Her emphasis is on how symbols can energise intensity to mobilise people. The agency has to do with the initiation for empowerment, and thus power can create change in institutions.
Professor Tawana Kupe, Academic and Vice-Chancellor of the University of Pretoria, joined in the conversation touching on how media impact affects the future of society and economics, making specific notes on diversity, gender and racial inequality.
The Highway Africa virtual conference will continue until the afternoon of 23 June 2021.