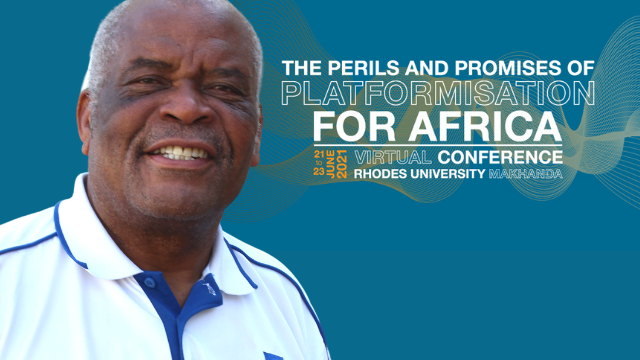 Although 2020's unexpected COVID-19 pandemic limited Highway Africa to a series of webinars, this year's virtual conference will see the usual magnitude of this 24-year old event restored to its former glory.
According to Francis Mdlongwa, Director of Highway Africa and the Sol Plaatje Institute at Rhodes University, "The Highway Africa summit returns after a short hiatus to take a deep dive into the future of African media and journalism. The industry has been severely disrupted by a variety of local and international challenges, including the increasing domination of the industry by the global technological platforms."
The three-day long virtual conference, which will run from 21 to 23 June 2021, will see over 20 international and local speakers lead high-level and cross-cutting debates that will seek to offer practical and workable initiatives that media and journalism could take on board to try to reverse an unprecedented slide in their economic and financial fortunes.
The line-up of world-class speakers have been drawn from a variety of academic disciplines and from media experts who daily troubleshoot on the ground to seek innovative solutions – some of which fail while others succeed – to an industry that is experiencing an existential crisis.
Regarded as the continent's largest gathering of African journalists and media practitioners, Highway Africa 2021 will explore the impacts of platformisation on Africa's news media, business models and journalism practices.
"In the past two decades, global technological platforms such as Google, Facebook, Amazon, Apple, YouTube and Twitter have entered the business of news and of journalism of mainstream media, dramatically raising the stakes for economic and financial survival of traditional media," said Mdlongwa.
"What has the platformisation of the news media meant for African media and their journalists?", asks Mdlongwa. "Accurate statistics on the impact of platformisation on the media in Africa's diverse 54 nations are not readily available, although scores of newspapers have either folded and retrenched staff or slashed the salaries of those who remain employed while they seek new business models to survive."
Newspapers in particular had already been in financial distress because of several exogenous factors in the past few years. These include the 2007-2008 global financial crisis, which deprived them of critical advertising revenue that has sustained newspapers in the past 150 years.
The summit conference will seek to find workable practical solutions to some of these challenges and how media and journalism can exploit emerging potential opportunities despite 60% of people in the developing world, particularly in Africa, having no access to the internet
The conference will use a mix of journalism and media management tools, strategies and tactics that focus on adaptability, learning, renewal and innovation in times of rapid change. These, it is hoped, could allow some media firms that remain to experiment with a range of solutions, which include embracing mergers; diversification of revenue models; and experimenting with digital apps for urban and monied audiences.
The conference will also examine media and journalism theories, conceptual understandings and empirical research that speak to platformisation in Africa a, as well as the use of Big Data, and seek to draw best practice from digital media pioneers and innovation and creativity solutions in harnessing the emerging platform economy.
Professor Anthea Garman, who is the Chair of the Highway Africa Steering Committee and Head of Journalism and Media Studies (JMS) at Rhodes University, stated: "Highway Africa gives us the space and time to ask ourselves about how Africa fits into the global media picture, and that's an important moment of attention and reflection for us on this continent. The COVID-19 pandemic has bizarrely made the financial sustainability crisis of journalism so much worse, but at the same time it has emphasised how critical public service information is to the world. How we take this moment to build strong, resilient media in Africa, is of crucial importance, and this conference gives us the time to think about that."
Professor Garman will be chairing several of the debates over the three-day period, along with JMS colleagues Drs Alette Schoon and Jeanne du Toit, and Rod Amner.
Some of the featured speakers include:
Professor Tawana Kupe, Academic and Vice Chancellor, University of Pretoria
Mr Adi Eyal, Data Investigations Lead at The Sentry, South Africa
Mr Daniel Cuthbert, Global Head of Cyber Security Research, Banco Santander
Professor Francis Nyamnjoh, Professor in Social Anthropology at the University of Cape Town, South Africa.
Professor Guy Berger, Director for Policies and Strategies regarding Communication and Information at UNESCO
Mr Adi Eyal, Data researcher, open data activist, and digital technologist.
Ms Marietje Schaake, International Policy Director, Stanford University
Professor Zizi Papacharissi, Professor and Head of the Communication Department, University of Illinois-Chicago, USA
Mr Styli Charalambous, Publisher & CEO, Daily Maverick
For a full list of speakers, please go here: https://highwayafrica.ru.ac.za/all-speakers
The full programme is available here: https://highwayafrica.ru.ac.za/programme2021
There is still time to register on the Highway Africa website at https://highwayafrica.ru.ac.za.
Should you have any questions or encounter any problems with registration, please contact Mbali Buthelezi on +27 46 603 8949 or email her on m.buthelezi@ru.ac.za.