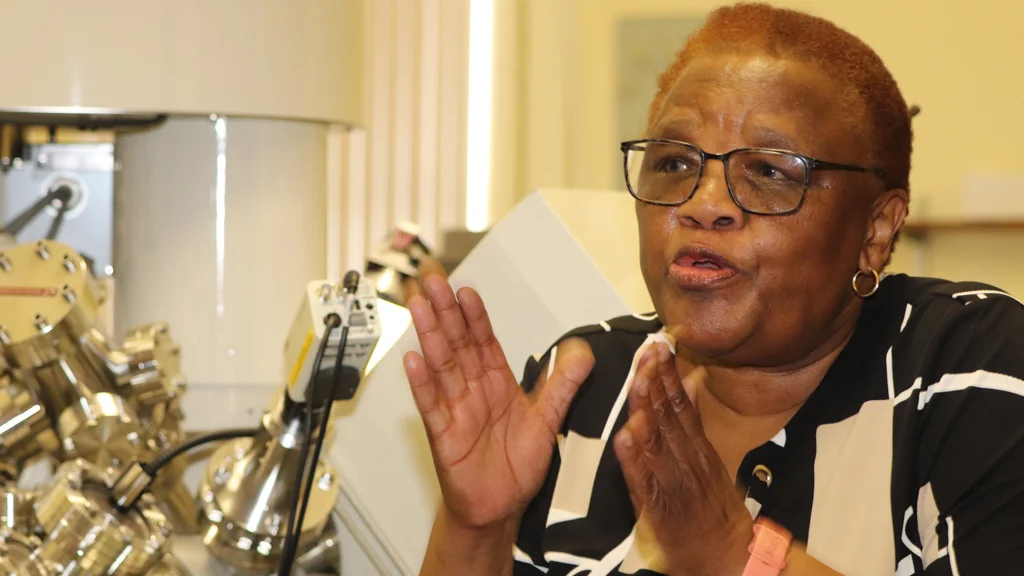 Rhodes University's Director of the Institute for Nanotechnology Innovation, Distinguished Professor Tebello Nyokong, has been selected as a Fellow of the Royal Society. Professor Nyokong is one of the 80 outstanding researchers, innovators and communicators from around the world who have been elected as the newest Fellows of the Royal Society, the United Kingdom's (UK) national academy of Sciences and the oldest science academy in continuous existence. The announcement was made today by the Royal Society.
The Royal Society is a self-governing Fellowship of many of the world's most distinguished scientists drawn from all areas of science, engineering, and medicine. The Society's fundamental purpose, as it has been since its foundation in 1660, is to recognise, promote, and support excellence in science and to encourage the development and use of science for the benefit of humanity.
Professor Nyokong and the 79 other elected researchers have been selected for their substantial contribution to the advancement of science, from the use of forensic techniques to identify victims of war crimes, to investigating processes in the Earth's core, and mapping the world's largest peatlands in the Congo basin.
The President of the Royal Society, Sir Adrian Smith said: "I am delighted to welcome our newest cohort of Fellows. These individuals have pushed forward the boundaries of their respective fields and had a beneficial influence on the world beyond. Among this year's intake are individuals who were at the forefront of the response to the COVID-19 pandemic, and those working on global challenges, from TB to climate change. They are pioneering scientists and innovators from around the world who have confounded expectations and transformed our thinking."
Professor Nyokong said she felt honoured by the election as she never expected it. She said she shared the honour with her students, without whom she would have never been a great scientist. "In South Africa, we do not want to offend anyone, but my work has always been about fighting the war against stereotypes of colour and gender. I was not expected to succeed based on the above. My success is due to my determination to train students who are truly world leaders, who have integrity and who are humble. My main aim has been to spread excellence among the African youth," said Professor Nyokong.
Thirty percent of this year's intake of Fellows, Foreign Members and Honorary Fellows are women. New Fellows have been elected from 20 UK institutions, including Manchester, Sussex, Exeter and Edinburgh. They have been elected from countries including Japan, Finland, China and South Africa.
Rhodes University Vice-Chancellor, Professor Sizwe Mabizela said he was hugely proud of Professor Nyokong. "She is a distinguished professor of our University. We are incredibly proud of her contribution to the research output of the University and all her achievements. She has very few equals in her area of speciality. She is making a huge contribution to our country and to the whole world. As the University, we are delighted to have academics of her caliber teaching our students, supervising our postgraduate students and contributing to global knowledge," he said.