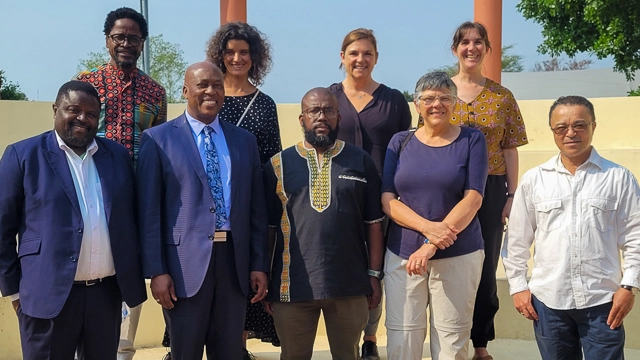 By Denzel Nyathi
Earlier this month, the International Library for African Music (ILAM) received a long-anticipated visit from the Acting Director-General of Arts and Culture, Vusithemba Ndima.
With ILAM working hard as a leader in the heritage space for the continent at large, the Director of ILAM, Dr Lee Watkins, shared a vision of ILAM going beyond digitalisation. While it forms an integral part of the Institute's practice, there's more to it than capturing and archiving the sounds of African music as found on traditional, hard music formats.
The cornerstone of the Institute's work is community engagement, which includes taking the tunes and sounds that soundtrack Africa's history and allowing African music practitioners and scholars to have practical and economically-beneficial engagements with it, in order to keep the music alive. The challenge earlier this month was to explain the importance of this to the Sports, Arts and Culture Ministry officials.
"Since before 2010, my predecessor used to make attempts and very often had appointments with those in the Ministry," Dr Watkins shared. "She left in 2016, and I continued this reaching out." This was supported by the short-term contracted employees from the community who found work in ILAM. "You could see a lot of interest in this Institution, but we need to expand our services."
This idea of investing in the 'diamond in the rough' is carried through in Dr Watkins' philosophy, as he wants to see how music education and investment in rural Eastern Cape music industries could pan out. Educating musicians in these marginalised rural communities has been a priority of the Jazz heritage of the Eastern Cape for some time. "My thing is always to develop rural South Africa. Make people want to stay and invest," Dr Watkins said.
Following the most recent meeting with Mr Ndima, Dr Watkins hopes the Ministry shares in this vision with him. "It's the first time that someone so 'high up' has come to see what we're doing," said Dr Watkins. "It's about developing research together."
ILAM's network includes the Rhodes University Department of Music and Musicology and a new friend to ILAM, the Department of Anthropology. "The Department of Anthropology has a solid interest in the welfare of ILAM," Dr Watkins expressed.
The excitement continues to buzz for ILAM in anticipation of where conversations with the Ministry might head next and what that could mean for the future of music in the Eastern Cape.