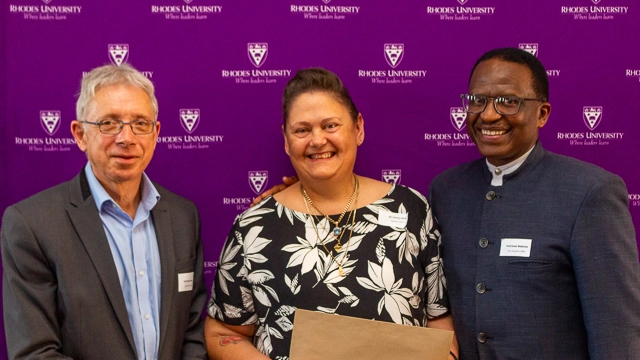 Rhodes University academic, administrative, and support staff recently gathered at the Senior Common Room to celebrate those who have been in service at the University for 30, 35 and 40 years, respectively.
Since this ceremony could not be held over the past two years due to COVID-19 restrictions, this long-service award ceremony included staff members from 2020 and 2021.
"This is one of those special days in our university calendar to pay special tribute to our colleagues who have served this university loyally, and with great dedication and commitment, for a considerable amount of time," said Rhodes University Vice-Chancellor, Professor Sizwe Mabizela.
Two staff members received an award for 40 years of service over the past three years, 21 staff members were acknowledged for being employed by the University for 35 years and 12 staff members had worked at Rhodes University for 30 years.
Dr Mabizela said, "We are very privileged to be able to celebrate our long-serving staff after a two-year hiatus. It is these individuals that have enabled us to build and sustain Rhodes University into the great institution that it is today. And for this, we are exceptionally grateful."
The long-service staff who were honoured, and their years of service are as follows:
Mr Arnott – 40 years in 2020
Prof Jonas – 40 years in 2020
Prof Britz – 35 years in 2020
Mr Trollip – 35 years in 2020
Prof Steenveld – 35 years in 2020
Ms Heunis – 35 years in 2020
Prof Sewry – 35 years in 2021
Mr Dyala – 35 years in 2021
Mr Katiya – 35 years in 2021
Ms Makubalo – 35 years in 2021
Ms Mantshongo – 35 years in 2021
Ms Sodladla – 35 years in 2021
Ms Stofile – 35 years in 2021
Mr Swartbooi – 35 years in 2021
Dr Abboo – 35 years in 2021
Mr Keep – 35 years in 2021
Ms Wicks – 35 years in 2021
Mr Ngxitho – 35 years in 2022
Ms Sewry – 35 years in 2022
Prof Wells – 35 years in 2022
Ms Cattaneo – 35 years in 2022
Ms Cartwright – 35 years in 2022
Prof Walker – 35 years in 2022
Prof Nyokong – 30 years in 2022
Mr Morgan – 30 years in 2022
Mr Gill – 30 years in 2022
Mr Kosi – 30 years in 2022
Mr Matyolweni – 30 years in 2022
Mr Mcuba – 30 years in 2022
Mr Peter – 30 years in 2022
Prof Klerck – 30 years in 2022
Prof Froneman – 30 years in 2022
Prof Villet – 30 years in 2022