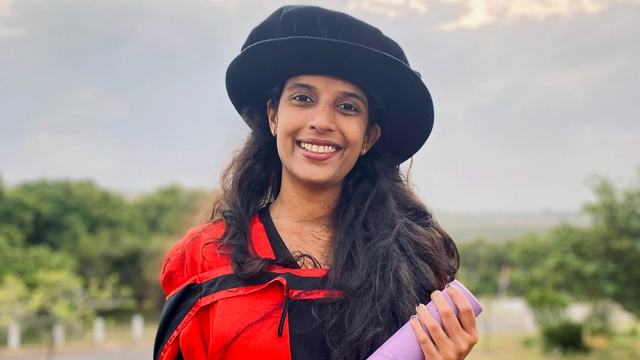 By Cebokazi Duze
Dr Seeprarani Rath, who recently graduated with her PhD degree at Rhodes University, has been awarded a prestigious Postdoctoral Fellowship at the University of Toronto, Canada, to the value of approximately R800 000. Dr Rath, who submitted her doctoral thesis in 2019, was a Postdoctoral Fellow at the Rhodes University Biopharmaceutics Research Institute (BRI) until recently.
The University of Toronto is ranked amongst the top 20 universities in the world – and among the top two public institutions in North America – in the prestigious Times Higher Education World University Rankings. The university's highest ranking came in the research category, where it is placed 12th in the world and 8th globally for pharmacy and pharmaceutical science.
Dr Rath's research focuses on developing surrogate methods to assess the safety and efficacy of topical dermatological products. Surrogate methods are internationally-recognised and help evaluate the safety and effectiveness of a product on a small number of healthy subjects, as opposed to thousands of patients included in clinical trials. Other surrogate methods involve in-vitro studies where the products are tested in the laboratory without needing patients or healthy human subjects. These methods determine how much of the drug permeates the skin using artificial membranes, which relates to the safety and efficacy of the drug.
Dr Rath developed a cost-effective measure to establish the safety and efficacy of medicines used for skin conditions like psoriasis, eczema, or fungal infections. "The foundation for this was laid at the BRI, '' she said. Professor Isadore Kanfer, Dr Rath's supervisor, stated that the BRI has long been acknowledged as being amongst the world's best research institutes for the assessment of bioequivalence of topical corticosteroid products and, more recently, efforts produced to develop novel methods for the assessment of the safety and efficacy of other dermatological medicinal products. The excellent research facilities and contributions originating from the BRI have provided an ideal research environment to encourage and facilitate the development of post-graduate students that are highly sought after. "Dr Rath is a good example of the high calibre of her resulting research efforts, which have been recognised by the award of a prestigious high-value and highly-competitive postdoctoral fellowship at the University of Toronto in Canada," Prof Kanfer stated.
"I started developing novel methods using simulation software which would give an idea of how the product will act when it enters the skin," Dr Rath explained. This is done without recruiting human participants. Furthermore, this will save generic product manufacturers a lot of time and resources, ensuring faster entry of these products into the market and making them accessible to the broader public. "The main focus is to reduce the price of medicines while ensuring their quality, safety, and efficacy," she elaborated.
Dr Rath received this award to continue her research, as there is a great demand for new and expedient methods to prove the safety and efficacy of dermatological prescription products. To qualify for this Fellowship, Dr Rath had to submit a research proposal and publications, which was reviewed by an expert panel.
The Fellowship, which commences on 1 Dec 2022, is for a year and extendable for two years. Upon completing her Postdoctoral Fellowship, she intends to continue her research and enter academia, as she has always been interested in it. "If that does not happen, I am open to industrial opportunities in the research and development area," she concluded.