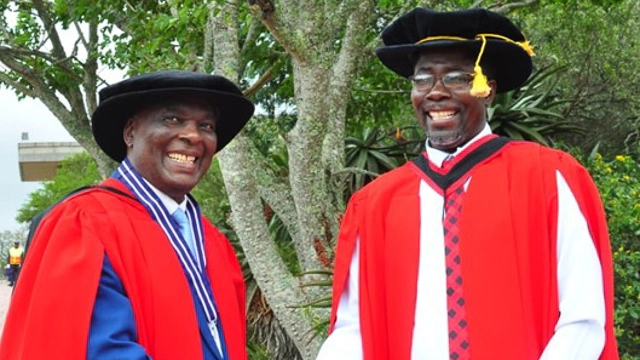 By Sylvia Tanya Mugwagwa
Through his recently awarded PhD degree, Dr Angelius Kanyanga Liveve demonstrates how the indigenisation of the science curriculum through drums and dance can make for a more holistic understanding of the subject for African school-going children.
Dr Liveve's PhD thesis titled 'Revitalisation and indigenisation of the science curriculum through drum making, drumming, music and dance' is based on his Master's thesis, both of which were supervised by Associate Professor Ken Ngcoza.
"It was a great pleasure supervising Angelius Kanyanga Liveve from Master's to PhD," said Prof Ngcoza. "He is a hardworking, conscientious and resilient scholar who researched something that is close to his heart. He did this by tapping into the cultural heritage of community elders, who are custodians of the cultural heritage, to enable the physics teachers involved in his study to become cultural knowledge brokers and who were empowered to use culturally responsive pedagogies in their rural science classrooms."
The continued support of the Namibian Colloquiums, the Southern African Association of Research in Mathematics, Science and Technology Education (SAARMSTE) and the African Association for the Study of Indigenous Knowledge System (AASIKS) also played a vital role in Dr Liveve's pursuit of postgraduate studies in Education.
Dr Liveve grew up in the Mayara Village in the Kavango West Region of Namibia. He completed his junior Secondary Certificate Examination in 1997 at Nkurenkuru Combined and his secondary school (Grade 12) in 1999 at Leevi Hakusembe.
He completed his Basic Education Teacher Diploma (BETD) in 2002 and his second diploma in April 2007. A close relative's PhD graduation motivated him to enrol for his Master's degree in Science Education at Rhodes University.
Dr Liveve is currently a lecturer at the International University of Management, Nkurenkuru Campus: Faculty of Education-Science & Research, in Namibia.
Mugwagwa: What inspired you to research how science curriculums could be redeveloped and redesigned in such a unique and creative way?
Dr Liveve: My life history and experience in teaching and management as a rural Namibian male teacher played a significant role in opting for this research topic of revitalisation and indigenisation of the science curriculum through drum making, drumming, music and dance.
In November 2017, I attended and presented a short paper at the AASIKS Conference which was held at Wits University, South Africa. My presentation was well-received, and I even had a video conference with one of the keynote speakers, Prof Gloria Emeagwali from USA.
In January 2019, I again presented a short paper at the SAARMSTE conference in Durban. My research supervisors had encouraged me to take my master thesis to the PhD level.
My study was thus built on my Master's study which was an exploration of the possibility of integrating traditional music and dance into the designing and delivery of lessons in Grade 10 Physical Science. It draws on my understanding of the context of Ukwangali. Most importantly, how the historical, physical, social and economic contexts are interwoven in a complex way; all served for a more holistic understanding of the research site.
Q: Please can you provide a summary of your PhD research?
A: This qualitative case study employed a formative interventionist methodology to explore how to mobilise the indigenous technology of drum making, drumming, music and dance for cultural revitalisation and indigenisation of the science curriculum.
This study contributes to the decolonisation of a Western-based curriculum that seems to disregard the cultural heritage of an African school-going child. This was made possible through collaboration with expert community members who are the custodians of indigenous knowledge (IK). It also emerged that in this study, home language was a valuable cultural tool of communication. Primarily, the study revealed that the Grade 10 physics teachers learnt communally and were able to identify cultural technologies which were integrated during the mediation of teaching of their co-developed exemplar lessons.
Q: Did you experience any challenges during your doctorate research?
A: Notably, this was conducted during the hard time of the COVID-19 pandemic. So, to meet all the necessary preventative measures was the most challenging aspect. Secondly, ethnic issues, which provided that said participant might withdraw at any time if they wish to do so.
Q: Were there any surprising findings to come out of the research?
A: Storytelling while sitting around the fire, dance, music and the expert community members' explanation and demonstration of drum making, and drumming was the most surprising experience of them all.
Q: How to you expect your research to benefit society?
A: The research forms part of the crossing bridge for IK and WS (Western science). It also created an opportunity to suggest that the science curriculum be modified to help teachers link learners' backgrounds and establish relevancy.