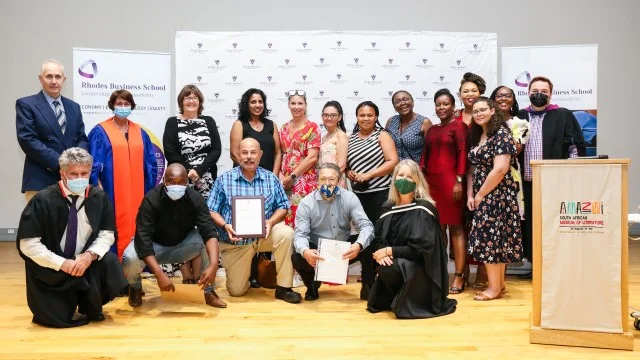 Rhodes Business School has launched two programmes for Rhodes University staff members to better prepare and develop them in supervision and management roles. The Supervisors' Development Programme (SDP) and Managers' Development Programme (MDP), started in 2021, saw 27 staff members graduating in February 2022. The Business School collaborates with the University's Human Resources Division to identify and capacitate eligible staff members.
The Manager for Learning and Development, Schalk Van Der Merwe, said the two programmes aim to assist with a structured development path for managers by gaining knowledge regarding management skills, focusing on practical implementation within their workplace. "The SDP is an accredited certificate programme aimed at a National Qualification Framework (NQF) level 6. The programme is aimed at all Rhodes University staff members in a supervising capacity and, as a guideline, aimed at staff in a Grade 8-13 role. Further requirements for eligibility are a matric (NQF level 4) plus three years' work experience. Staff members who might move into a supervisory role in the near future can also be considered with the motivation of the relevant manager. The programme is further designed to enable supervisors to lead their staff to reach the operational objects efficiently and effectively."
The MDP programme is an accredited certificate programme at a National Qualification Framework (NQF) level 7. "The programme is aimed at all Rhodes University staff members in a managerial capacity. As a guideline, preference was given to staff currently in a Grade 14-17 role and staff who are not yet in a managerial capacity but, together with the line manager, envisage such a career trajectory. It was further envisaged that the MDP will assist in building managerial capacity, as well as the application thereof, in guiding staff during these challenging times," explained Van Der Merwe
Rhodes Business School Senior Lecturer Leticia Greyling said it was the first time that Rhodes University rolled out a course of this nature for its staff members. She said staff members who wanted to be part of these two programmes needed a computer and reliable internet connection, as everything had to be done online in 2021 (another first for Rhodes University's staff development). She said they would adopt a hybrid approach this year. "Each programme has four distinct modules which cover a range of topics, ranging from understanding one's personal context in higher education, understanding teams, effective communication, how to develop others in your teams, team development and relationships, managing teams, team effectiveness, and decision making and operations," said Greyling.
Greyling said that a significant portion of the programme is funded by the Education, Training and Development Practices Sector Education and Training Authority (EDTP SETA), and Rhodes University pays the rest. "We only require commitment, patience, concentration, and perseverance from staff members," added Greyling.
One of the staff members that participated in the SDP programme and Principal Technical Officer for Pharmacy Faculty, Sibusiso Ngxingxo, said he thought that the programme would be a traditional work-centered programme. Still, it was a life-changing experience for him. "The programme itself challenged me to be a better man, not only at work, but I took valuable lessons and skills that have helped even in my personal journey. It has improved my communication skills; the way I look and deal with conflicts has completely changed. I learned that a good team leader must develop emotional intelligence as one would need to be able to relate to the different personalities," he explained.
Among the academics that are assisting with teaching in the two programmes are the Centre for Postgraduate Studies Director, Professor Sioux McKenna; former Deputy Vice Chancellor for Academic and Student Affairs, Professor Chrissie Boughey; Rhodes Business School Director, Professor Owen Skae and the Deputy Vice-Chancellor for Research and Innovation, Professor Peter Clayton.
Greyling said she was excited that both programmes have received 100% pass. A callout has been made for this year's intake. The closing date was 21 February 2022.