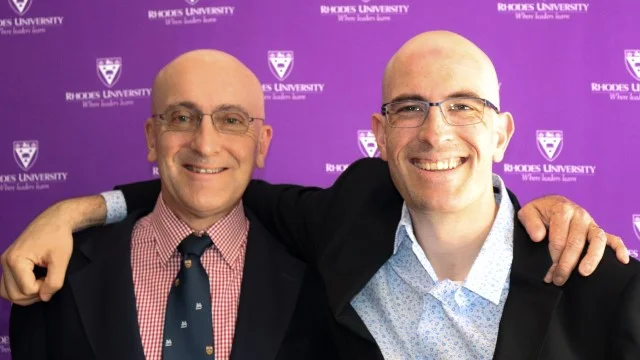 A long-serving Rhodes University Board of Governors member and Chairperson, Mr Mike Spicer, passed away this week.
Mr Spicer started his journey at Rhodes University as a student in 1971, where he completed an MA in History in 1977. In 2009, he was elected to the Board of Governors and by 2012, he was serving as Chair. He served as Chair until 2019, after which he was awarded a Lifetime Honorary Award at a special ceremony in Franschhoek (2020).
At the event, Mr Spicer thanked Rhodes University and members of the Board for having helped shape his experiences. He told the current Board: "It's been a most rewarding seven years of my life [as Chair]."
Rhodes University will fly its flag at half-mast for a week in recognition of Mr Spicer's role in our University.
In honour of his significant contribution to Rhodes University, Deputy Vice-Chancellor: Research & Innovation, Professor Peter Clayton, shares a fitting tribute:
Tribute to Michael Spicer by Professor Peter Clayton
It is with sadness that we inform the Rhodes Community of the death of Michael Spicer, alumnus (1971-1977), member of the Rhodes University Board of Governors since 2009, and Chair of the Board of Governors (2012-2019).
Born in 1953, Michael matriculated at St John's College, Johannesburg, before enrolling at Rhodes University, where he graduated with a BA degree in 1974, followed by a Masters degree in History in 1977. He was a prime example of the implicit benefits of tertiary education, displaying all of the skills and cognitive abilities that one acquires which extend beyond the disciplinary boundaries of the subject one is studying.
Drawing on all facets of his humanities-based education, Michael became one of South Africa's most influential business figures. Like many who come through our halls of learning, Michael met his wife Ireen at Rhodes University.
In his early career, Michael worked at Royal Institute of International Affairs in the UK and the South African Institute of international Affairs, where he was appointed as Deputy Director. He rose to prominence in the business world in a 20-year career at Anglo American, becoming Executive Vice-President of Anglo American PLC, and Non-Executive Director of Anglo American South Africa, occupying the position of non-executive chairman from 2012 to 2015.
His tenure at Anglo coincided with the turbulent period of putting an end to apartheid in South Africa. The leadership of Anglo American played a crucial role in brokering dialogue with, and between, the ANC in exile and prison, and the apartheid government. Michael, together with close colleagues such as Gavin Relly and Clem Sunter, had an enormous influence on South Africa's socio-political tightrope walk during this period.
Michael later served as CEO of Business Leadership South Africa (2005-2011) and as its Vice-President (2011-2014). He was a member of the board of Rothschild South Africa (2006-2015), and non-executive chairman of BDFM (2011-2013). In 2013 he was appointed as an independent Non-Executive Director at Adcorp Holdings Limited and in 2014 as Deputy Chairman of the board of the Western Cape Tourism, Trade and Investment Promotion Agency (Wesgro). He also served as a board member of Accelerate Cape Town and the Brenthurst Foundation.
Michael played many roles in public life. He was appointed in 2006 as an inaugural member of the Presidential International Advisory Board of Mozambique and subsequently chaired that body. He was Chairman of the Council at St John's College, and in 2012 was invited by President Joyce Banda of Malawi to be a member of her Presidential Economic Advisory Council. He served as a trustee of the Birdlife National Trust, and, as a keen cyclist, was president of Team Africa Rising.
Michael will be warmly remembered by the Rhodes University community for serving the University with dedication and distinction, for his wide involvement in business and public life, for his contribution to our country's transition to a peaceful democracy, and for being a momentous role model for our slogan 'Where leaders learn'.
He is survived by his wife Ireen, and their sons Nicholas and Simon. We express our heartfelt condolences to them, and to all who will miss him.