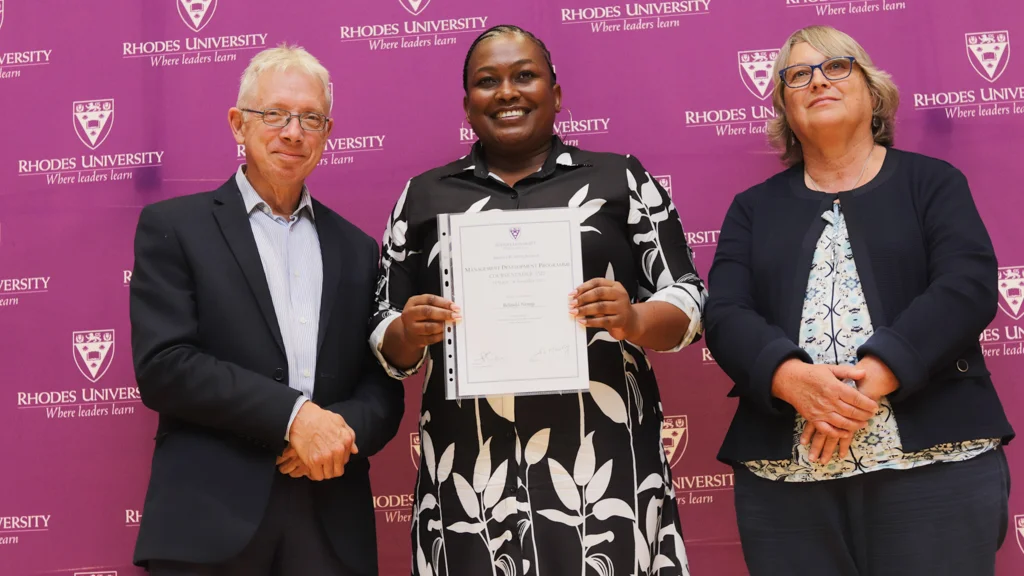 By Ntikana Ramohlale
The Rhodes Business School recently held a graduation ceremony for its Manager's Development Programme (MDP) and Supervisors' Development Programmes (SDP). The two programmes were launched in 2021 to improve leadership skills for managers and supervisors within Rhodes University. The Business School collaborates with the University's Human Resources Division to identify and capacitate eligible staff members.
The Manager for Learning and Development, Schalk van der Merwe, said the two programmes provide a structured development path for managers through them gaining knowledge regarding management skills and focusing on practical implementation within their workplace. "The SDP is an accredited certificate programme aimed at a National Qualification Framework (NQF) level 6. The programme is aimed at all Rhodes University staff members in a supervising capacity and, as a guideline, aimed at staff in a Grade 8-13 role. Further requirements for eligibility are a matric (NQF level 4) plus three years' work experience. Staff members who might move into a supervisory role in the near future can also be considered with the motivation of the relevant manager. The programme is further designed to enable supervisors to lead their staff to reach operational objectives efficiently and effectively," said van der Merwe.
The MDP programme is an accredited certificate programme at a National Qualification Framework (NQF) level 7. "The programme is aimed at all Rhodes University staff members in a managerial capacity. As a guideline, preference was given to staff currently in a Grade 14-17 role and staff who are not yet in a managerial capacity but, together with the line manager, envisage such a career trajectory. It was further envisaged that the MDP would assist in building managerial capacity, as well as the application thereof, in guiding staff during these challenging times," explained van der Merwe
In attendance at the graduation ceremony was Acting Deputy Vice-Chancellor for Research and Innovation, Professor Joanna Dames; Acting Registrar, Professor Dave Sewry; Skills Advisor at Education, Training and Development Practices Sector Education and Training Authority (ETDP SETA), Mpumzi Mgijima and the Director of the Rhodes Business School, Professor Owen Skae.
Van der Merwe thanked the ETDP SETA for providing funding, which allowed the programmes to continue and challenged the various staff members who were part of the programmes to fully implement the skills they learned from the programmes. "Today you are getting your certificates, but the programme begins today. So, apply all the knowledge you gained from these programmes in your various workspaces effectively," he said.
One of the coordinators of the programmes, Leticia Greyling, provided insight into the programmes' content and the learning objectives. "Each programme has four distinct modules which cover a range of topics, ranging from understanding one's personal context in higher education, understanding teams, effective communication, how to develop others in your teams, team development and relationships, managing teams, team effectiveness, and decision making and operations," said Greyling.
Professor Dames gave the keynote address at the ceremony, sharing her own personal insights into leadership. She reflected on her journey, which saw her work different kinds of jobs before she pursued her academic career. "I had a couple of jobs mainly in administration and technical support, and I actually appreciate having those jobs because sometimes when you are in a university, you forget that there is a world outside of a university," said Professor Dames.
She expressed gratitude for having had the opportunity to work with people and interact with them frequently. "It was interesting to work with other people in different spheres. I learnt a lot at those jobs, but most importantly, I learned some valuable people skills in the process," added Dames.
In this working environment, Professor Dames acquired some key life skills that she would find useful in her academic career. "I took the opportunity also to take short courses which were on public speaking, organisational skills, and probably the one I remember the most, which is how to be assertive," explained Dames. Professor Dames motivated the graduates and said these skills have been crucial in helping her attain subsequent leadership positions at the departmental, faculty, and institutional levels as interim Deputy Vice-Chancellor.
Professor Skae echoed some sentiments about the centrality of 'people' within business and leadership shared by Professor Dames. He said: "Business should be about people doing, not talking." He reflected on the current electricity crisis in South Africa as a clear example of the lack of execution by leaders. He further urged the SDP and NDP graduates not to become too preoccupied with merely analysing matters, but taking it upon themselves to act on them, even if their actions do not always succeed.
One of the participants of the programme who performed above average in their modules, Thabisa Mdlangu, was asked to reflect on the journey of being part of this programme. Mdlangu mentioned how they were given pencils and asked to draw a picture of what leadership meant without using words. "A lot of funny drawings came out of that exercise. However, this exercise taught us that leadership is about authenticity and being true to yourself," said Mdlangu. She said the programme taught her the importance of teamwork and taking time to listen and understand whom one works with, as most of their exercises always required them to pair with other people. "In the famous words of our Vice-Chancellor, may we always brighten the corners where we are," concluded Mdlangu.