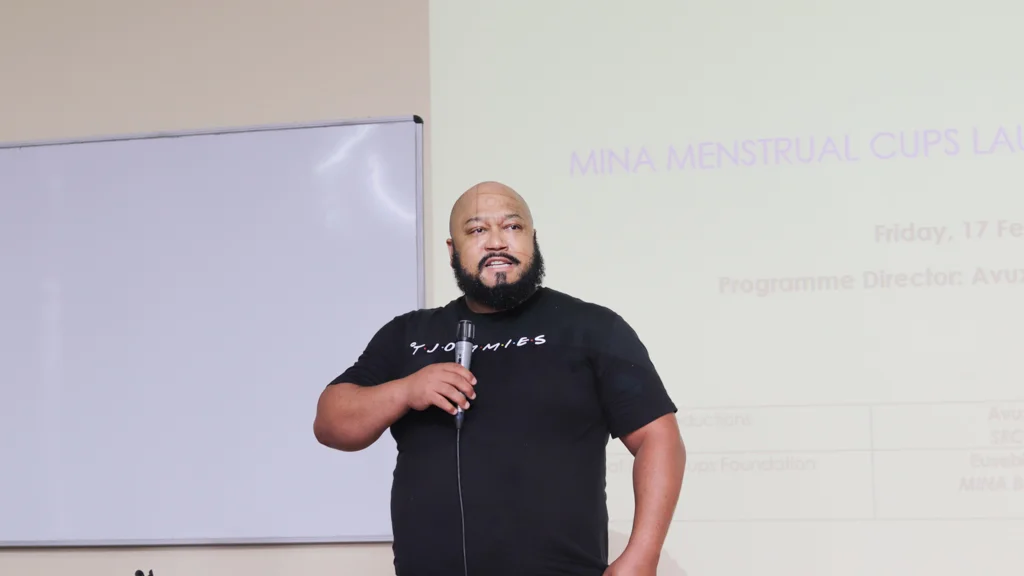 By Sam van Heerden, freelance writer and researcher
Millions of women in South Africa struggle to afford sanitary products. This can stop them from attending school and working, undermining their health and dignity. Last week, the Mina Foundation visited Rhodes University to promote its durable and cost-effective period solution. The Mina Cup is a reusable silicon menstrual cup. They also launched a campaign to increase awareness of women's reproductive health and de-stigmatise the conversations around menstruation.
Mina Foundation board member and Rhodes University alumnus, Eusebius McKaiser, was one of the facilitators of the launch. "Women do not have a choice to menstruate, but we are in this incredibly unjust situation where the hygiene products necessary to feel comfortable in your body are not freely available. The consequences of that can be catastrophic," he explained.
The Mina Foundation has been introducing the initiative across universities in South Africa over the past year. In addition to raising awareness, the campaign involves donating 1000 reusable Mina menstrual cups to Rhodes University students in need. Each cup, sponsored by Gift of the Givers, is medically approved, safe, eco-friendly, and has a five-year life span, meaning it is more affordable in the long-term.
Period poverty describes how many low-income women cannot access menstrual products due to their expenses, which can cause emotional, health-related, and work/school challenges. "Three in 10 students miss school because of their periods every month, which deprives them of getting an education and reaching their goals," said SRC President and host for the launch, Avuxeni Tyala. "Being a woman should not stop you from achieving any of your education or your goals, and that is why today is such an important conversation," she said.
Talking to a packed Union Lecture Theatre, speakers also included a representative of one of Mina Foundation's partners, Corene Conradie of Gift of the Givers, and leading albinism activist Regina Mary. Conradie joked that for Valentine's Day next year, women do not want flowers or chocolates but menstrual cups. "They want power. A menstrual cup is power in your hands because it is a sustainable way to empower young girls and women," she said.
Menstruation is shrouded in shame and stigma, which prevents people from having these kinds of conversations. When people must resort to using socks, newspaper, or using sanitary products beyond their intended time-frame, this shame can be exasperated. Due to this, they might stay home and miss out on opportunities, and the alternative measures can sometimes undermine their psychical health, too.
Mary spoke out about discrimination and shame based on her experiences growing up with albinism. She emphasised how she came to accept herself and be proud of who she is and implored others to overcome the taboos around menstruation.
On this topic, Tyala added: "There's a certain stigma that surrounds periods and which stops us from discussing it. However, half of the world's population are menstruating people, so it's time that we make the conversation about eradicating period poverty everybody's business."
McKaiser noted importantly that period poverty is directly linked to gender inequality and other social justice issues. "I'm glad that so many men are here," he said to attendees, "Because the reality is that power is distributed towards men in society, and they make these decisions about what is essential instead of privileged products. If men menstruated, free tampons would be available in every residence."
He added that inequality in educational opportunities and experiences between men and women should not be further exasperated by women skipping lectures because they do not have the necessary sanitary products.
He also noted that tampons and pads harm the environment and that environmental degradation mostly affects working-class people. He said their menstrual cups are more eco-friendly; the Mina cup is made of medical-grade silicon that is much less likely to cause reactions or infections.
Going forward, Mina Cup will fall under the overall activation that Rhodes University has been pursuing to promote the wellness of students, including the First Things First campaign, which includes HIV/Aids testing and pap smears around campus. Both the Counselling Centre and Healthcare Centre were present at the launch, along with other health-orientated divisions, such as representatives from the Department of Health and Heart Wellness.
"Rhodes University is committed to the wellness of its students, and we are keen to partner with any organisation or initiative that is also dedicated to this goal," said the Student Wellness Manager, Mandisa Ndabula. Tyala added that within the overall wellness goals of the university, "it holistically falls under the ambit of creating a progressive and transformational way forward for students."
Anyone who would like to contribute towards eradicating period poverty in South Africa can buy one Mina Cup at a pharmacy near them, and another will be donated to someone in need.