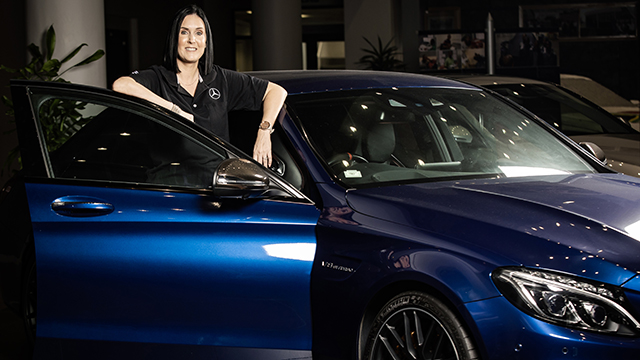 Rhodes University commerce alumna Taryn Woodbridge has recently been appointed the first-ever woman Chief Financial Officer (CFO) and Executive Director: Finance and Controlling of Mercedes-Benz South Africa (MBSA).
She is a qualified chartered accountant and a taxation Masters in Commerce graduate from Rhodes University. In 2004, she joined MBSA as a product control analyst and held several leadership positions focusing on plant performance and optimisation.
Her first senior management position came in 2014 when she was responsible for plant accounting and controlling.
Rhodes University's relationship with MBSA spans many years. The vehicle automotive company has consistently provided funding for bursaries and sponsorships for important events, such as the recent Southern African Institute for Management Scientists (SAIMS) conference hosted by Rhodes University. The SAIMS conference saw keynote speakers from Rhodes University and MBSA, including Dean of Commerce Professor Dave Sewry and Chief Executive Officer and Executive Director: Manufacturing at Mercedes-Benz SA, Andreas Brand.
On Woodbridge's recent appointment, Professor Sewry said, "Affirmation of a job well done can come in many ways. For Taryn, it is her appointment as CFO. For colleagues and I, it is her appointment too, but more so, knowing that we and Rhodes University played a pivotal role in casting solid educational foundations that have served her career progression richly. Many congratulations to Taryn from her alma mater and a proud Dean."
The Rhodes Business School (RBS) has been involved in several organisation development initiatives within Daimler [and now MBSA] and also delivered several leadership programmes at the middle and junior management levels.
According to Professor Owen Skae, Director of the RBS, "Taryn has consistently been a great supporter of these initiatives, recognising the contribution that the right kind of leader and employee behaviour makes to organisational success."
Over the years, MBSA has demonstrated its deep commitment to the Eastern Cape. "Rhodes Business School is proud to be associated with a company that invests in its people in such an authentic and sincere way," said Prof Skae.
Rhodes University recently had the honour to engage with Taryn Woodbridge in a Q&A session.
Q: How do you feel your time at Rhodes University prepared you for this position?
Taryn: Rhodes University provided with me the foundation to kick-start my career in the Finance field. Through the excellent support and education provided by the various professors and lecturers, this allowed me to qualify as a Chartered Accountant and to then further my studies through the University to obtain my Masters in Commerce: Taxation. This solid foundation combined with practical experience supported me to launch my professional career.
Q: What are some of your fondest memories of Rhodes University?
Taryn: I was fortunate to attend the East London campus of Rhodes University which was in operation during my studying period. This allowed me to complete my articles and theoretical studies simultaneously. We had a wonderful community of students and professors and I fondly remember our engaged debates and social events which really created a sense of belonging.
Q: How does it feel to be the first woman CFO of Mercedes-Benz SA?
Taryn: I am very honoured to be the first woman to hold the position of CFO at Mercedes-Benz South Africa and I am confident this will pave the way for many more women to join me on the leadership team. I recently celebrated my 19th year anniversary at Mercedes-Benz SA and I am proud of the journey I've been on. I am honoured to lead and be afforded this opportunity. I look forward to immersing myself in the role and to further advance the strategic ambitions of Mercedes-Benz South Africa.
Q: What is your advice for young women aspiring to be in leadership positions one day?
Taryn: Be committed and consistent. Display passion and dedication to your work. Seek a mentor who can support you on your journey and give you advice along the way. Make your aspirations for leadership known. Take opportunities that come your way for example: job scope broadening, rotation into a new role, stepping into a project, growing your network and understanding of the industry you are in, these will be an enabler. Work hard and have a positive, self-motivating attitude.
Q: What do you do when you are not working?
Taryn: I really look forward to spending time with my husband and two daughters and extended family and friends. This is very important to me. I enjoy travelling when possible and like to take time to relax and recharge with a good book. A good work / life balance is important to maintain a good healthy lifestyle so taking time to exercise is also important for me.