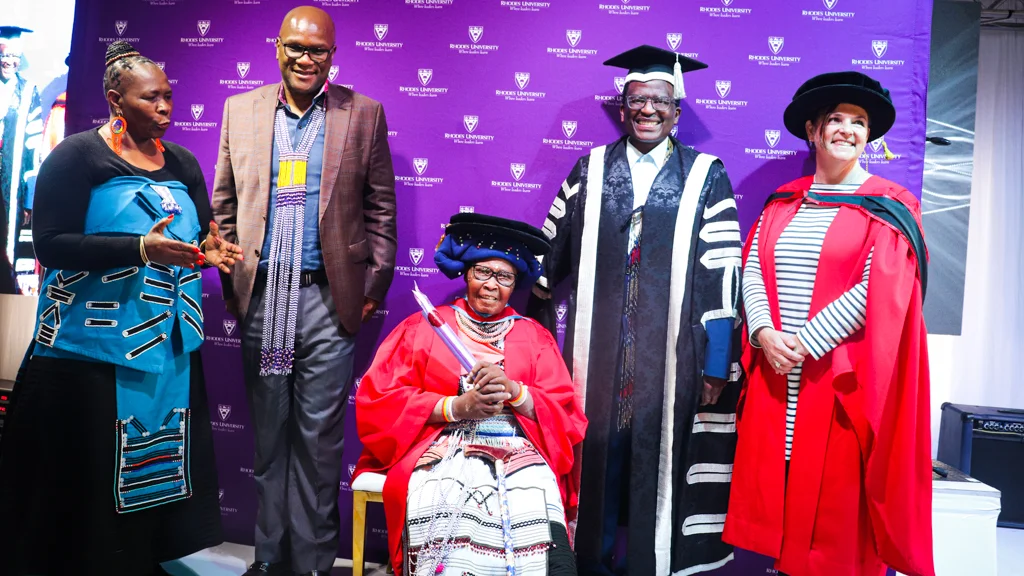 The Rhodes University community is saddened by the news of the passing of one of its honorary doctorate recipients, Mama Latozi Madosini Mphahleni. Mama Madosini was one of South Africa's most celebrated artists, teachers, composers and storytellers.

Known as a national treasure and 'the queen of South Africa's indigenous Xhosa music' – the musician, composer, dancer, storyteller, and teacher, Mama Madosini was born in a small village near Mthatha. Her exact age is not known. According to her, she was born "when the monthly pension was worth half a crown."
Mama Madosini received no formal western education, coming from a community with long resistance to missionary education and Christian conversion. She never learnt to read or write, but she was in great demand as a teacher, having been seconded to the University of Cape Town Music Department and to the International Library of African Music Rhodes University, to instruct students. Much of her own learning came from her mother, who was also an expert in the playing and making of indigenous musical instruments.
Mama Madosini's first recording was made in Mpondoland in the 1970s when a film crew paid her a mere R8 to record eight songs. And it was played on the radio with no royalties accruing to her. After a few years, one of her nephews, a migrant worker in the mines, told her that he had heard one of her songs being played in a music shop in Johannesburg. In the mid-1980s, another of her songs, 'Nozimanga', was played as a backing track in a Radio Xhosa drama series. Her work was expropriated without payment, and she lacked the means to seek legal recourse. She became disillusioned with the music industry. Recognition did eventually come for her in the mid-1990s when the renowned music group, Amampondo, heard her recordings and joined up with her, bringing her to Cape Town, where they combined to produce a CD entitled 'Madosini'. This was to be followed by other recordings and world tours with the group.
Her bow music was now drawing international attention, and in 1998 a UK-based company released, to great acclaim, a solo album of her songs entitled 'Power to the Women'.
Further collaborations followed for her – writing songs with the British rock singer Patrick Duff and performing with him in concerts around the world. Also collaborating with South African musicians like Sibongile Khumalo and Thandiswa Mazwai while joining with Hilton Schilder, Lulu Plaaitjies and Pedro Espi-Sanchis to record an African-jazz fusion CD under the name of AmaThongo.
Mama Madosini's music is said to represent some of the earliest roots of jazz in Africa. She was also a composer, a dancer, and a teacher, passing on her musical expertise and the practice of bow-making to younger generations, most notably at the Centre for Indigenous African Instrumental Music and Dance in Pretoria. Through her musical performances and teachings, she played a preeminent role in preserving and keeping alive the cultural traditions and heritage of the amaXhosa – a heritage that could so easily have been lost and forgotten without her lifelong contribution. 'The youth have forgotten their roots', she once said.
Madosini has performed at festivals around the world – in the UK, the US, Singapore, Australia, Spain – and most notably at the World of Music Arts and Dance festivals in 2008 and 2009. Many awards have been bestowed on her. In 2013 the South African Arts and Culture Trust Lifetime Achievement Award for music; the Molteno Medal in the same year; the South African Ministerial Award for the outstanding contribution of women in cultural affairs; the 2018 Mbokodo Award.
Although Mama Madosini was awarded the degree of Doctor of Music (honoris causa) by Rhodes University in 2020, due to COVID-19 and lockdown restrictions at the time, the physical celebrations of this honour were deferred. Earlier this year, she was formally robed and hooded in full view of her family and the community at Mkhankatho village in Libode, outside Mthatha. At the time, Rhodes University Vice-Chancellor, Professor Sizwe Mabizela, said: "she is a worthy recipient, a formidable woman, a woman of substance, a woman of great dignity and humility and a doyenne of our cultural heritage. Today, we are delighted to have the opportunity to formally robe and hood Gogo Madosini and celebrate her with her family and community. It is no exaggeration that she has singlehandedly kept alive the South African heritage of Xhosa music through her performances and instruments."
In her reply Dr Madosini said: "Kangangoba ndinemincili yilento ndiyenzelweyo yi Rhodes University, ungasuke undibone sendikhala. Ndiziva ndingcangcazela, ndiphelelwa nangamandla ngenxa yovuyo olusentliziyweni yam. Bendingubani na mna, iqaba elingazange lawubona umnyango wesikolo? Noba ndingalala kobandayo, intliziyo yam ixolile ngento endiyenzelwe yi Rhodes University." (The way I am so happy, I could start crying. I am shaking right now because of the joy in my heart. Who am I? An uneducated old woman who has never gone to school. Even if I could die, my heart is at peace after being honoured by Rhodes University in this way.)

"Gogo Madosini was a great inspiration for our nation. At Rhodes University, we are happy that we honoured her while she was still alive. On behalf of the Rhodes University Council, Chancellor Judge Lex Mpati, the Board of Governors, and the university community at large, we send our deepest condolences to Mama Madosini's family, friends and colleagues. May her soul rest in eternal peace, lala ngoxolo Qhawekazi, sikhukukazi-ndini sesizwe." said Professor Mabizela.
If you would like to hear more about her life from the African Music Activist podcast series, follow one of the links below.