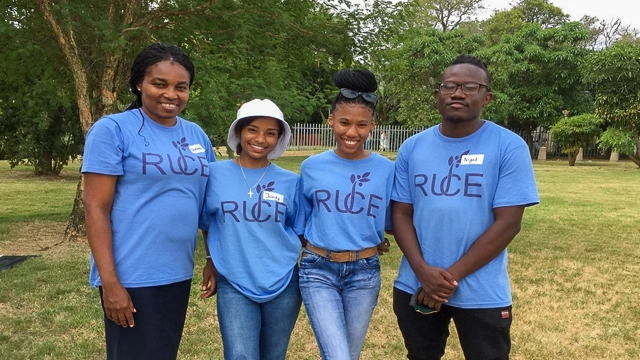 Our Rhodes University Community Engagement student volunteers work tirelessly and selflessly to uplift the community through mentoring, early childhood education, engaged citizenry and social change. Meet Jodi-Anne Rooi, a student leader in the 9/10ths Matric Mentoring Programme – and hear about what inspires her.
Q: What are you currently studying?
A: I am in my third year BA, majoring in Combined English and Afrikaans.
Q: What motivated you to become involved in community engagement?
A: I was a part of the Nine Tenths Matric Mentoring programme in high school, and my mentor was just the best. The guidance, support and help I got from her are what I wanted to give back. That's why I did not think twice about becoming a part of the programme when I got to varsity.
Q: Why do you believe all students should become involved in community engagement?
A: Community engagement is, first and foremost, to help those in more disadvantaged circumstances. But it also enables you to grow as a person. You meet people you become great friends with and learn more about yourself and your community.
Q: What do you love most about being a student leader?
I get to work with people. It's challenging at times, but seeing their growth is truly inspiring.
Q: What is one of the most heartfelt experiences you have had in this role that made you realise the value of what you are doing?
Whenever I speak to learners from the schools we work with, and they tell me what they want to become in life and what they want to achieve, it reminds me of when I was in high school and all my dreams. And how my dreams became possible through the Nine Tenths Mentoring Programme. Knowing that I positively impact someone else's life, just like my mentor did mine, keeps me going.
For more information, please click here.
Source: Communications