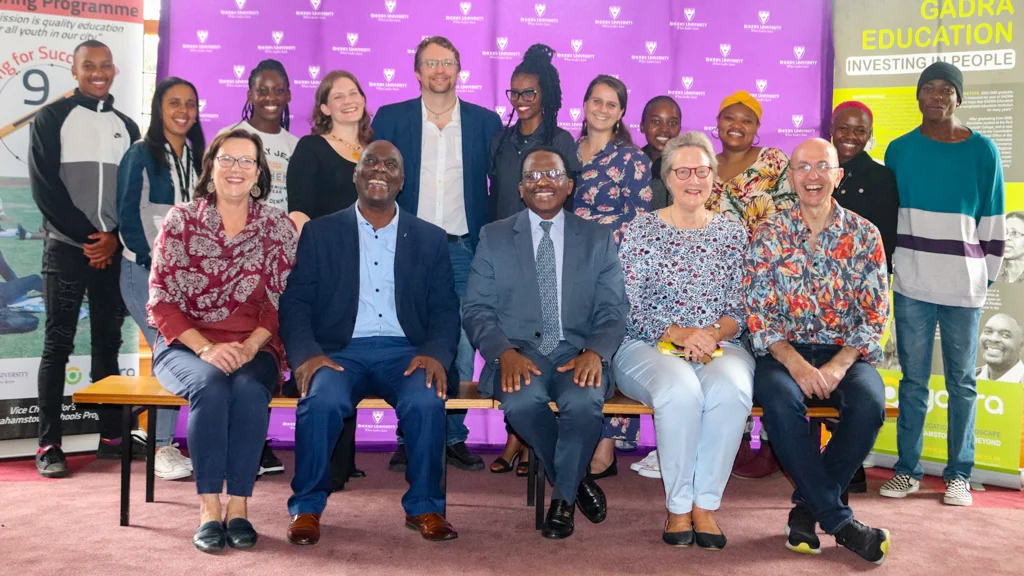 By Ntikana Ramohlale, MA Candidate in Political and International Studies
Vice-Chancellor, Professor Sizwe Mabizela welcomed hundreds of students from different initiatives such as Gadra Matric School (GMS), the Bridging programme and the Nine-Tenths mentoring programme last week. Professor Mabizela congratulated each of them for making it to Rhodes University and encouraged them never to give up on their dreams.
GMS is a second-chance school for learners who seek to improve their marks in selected National Senior Certificate subjects to accumulate the required points to gain access to universities.
GADRA Education (the holding organisation of GMS) partnered with Rhodes University in 2015 to assist with the vision of Pathways to the Future, which was spearheaded by Professor Mabizela, upon his inauguration. The initiative aims to address the issues of unequal access to quality education in Makhanda through various programmes.
Nine Tenths is a targeted programme where student volunteer mentors guide local learners through nine structured sessions to equip learners to pass to their full potential. The Nine Tenths programme was conceptualised and launched in 2016. It is co-managed by the Rhodes University Community Engagement Division (RUCE), local high schools, and GADRA Education.
The Rhodes University Bridging programme is a tried and tested, impactful means of getting young people from a position of deficit education to socially engaged, environmentally concerned young graduates who can enter the green economy, either as employees or entrepreneurs. The programme has been designed to enable young people with immense potential to embark on their university studies by initially doing one Rhodes University credit while improving their National Senior Certificates GADRA Matric School.
"You have come through various programmes that were there to support you, and you have earned your right to be at Rhodes University. You are now part of the University and you must do your part to empower others who wish to be where you are today," said Professor Mabizela.
One of the students from the Bridging programme, 20-year-old Tyrah Knock, comes all the way from Paarl in the Western Cape. Speaking on her experience of the Bridging programme, she said: "It was tough at first having to balance taking a university course and studying to rewrite as well, but it got better as time went on." However, she went on to mention what she also loved about the Bridging programme saying: "I enjoyed how being part of the Bridging programme gave me the opportunity to experience Rhodes University before I could become a full student." Knock took Political and International Studies in 2022 while upgrading her matric results and is now registered for a Bachelor of Journalism degree at Rhodes University.
A 19-year-old Khanyolwethu Xanthi from Bathurst was part of GMS and took Political and International Studies in 2022 while upgrading her matric results. "There was a time when I was even thinking of dropping out but Gadra has caring staff members who motivated me and the thought of becoming a Rhodes University student this year kept me focused," she said. She is now enrolled for a Bachelor of Arts majoring in Psychology and IsiXhosa.
Silakhe Xako (18) was part of the Nine-Tenths mentoring programme. She received mentoring under this programme while she was completing her matric at Nombulelo Secondary School in Makhanda. She is now enrolled at Rhodes University for a Bachelor of Social Science degree in Management and Psychology. "Nine Tenths was very nice because I learnt a lot about how to write good summaries and essays and I was prepared for university life," she said.
RUCE Director, Diana Hornby said that the main expectation they had ahead of the year 2022 was ensuring that learners from around the township can gain access to university. Speaking on the effectiveness of the various interventions made by the RUCE, Hornby said: "Our programmes make targeted interventions that do not get universities to lower their requirements, but rather work with schools to ensure that they raise the bar in terms of their teaching and learning". Hornby acknowledged the great deal of collaboration that continues to exist between Rhodes University and the neighbouring no-fee paying schools in Makhanda ensures that disadvantaged learners gain as much support as they require.
Gadra Education Manager, Dr. Ashley Westaway acknowledged the difficulties that the class of 2022 faced considering the Covid-19 pandemic and its role on the class's ability to cope with the pressures of matric. Westaway also applauded the collaborative efforts between Rhodes University and Gadra Education. He said they plan to focus much on mentoring first-year students to prevent them from dropping out of university due to a lack of guidance. "There shall be measures to ensure, sustain and build the Nine Tenths and Gadra programmes", added Dr Westaway.
Professor Mabizela expressed pride in these young people who "have taken full advantage of the opportunity presented to them." He said: "I honour, commend, and salute GADRA and RUCE for the tremendous work they do in assisting these young people in regaining their confidence and dignity after struggling with their matric year."