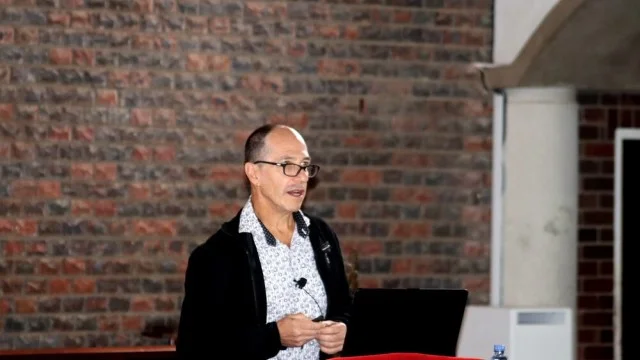 On 15 March 2022, Kingswood College held its annual Neil Aggett memorial lecture, which was presented by Rhodes University honorary doctorate (2008) Jonathan Shapiro, also known by his pen name 'Zapiro'.
Each year, a Kingswood College student receives the Neil Aggett award in honour of the man who fought for human rights during the Apartheid. This award is given to a student who has shown commitment to social responsibility and standing up for social justice not only within the College, but also in the greater Makhanda community. The lecture has seen many celebrated guest speakers in the past.
Jonathan Shapiro is South Africa's most-awarded political cartoonist who currently works for Daily Maverick. In the past, he was the editorial cartoonist for the Sunday Times, the Mail & Guardian, The Times, The Sowetan and other independent newspapers. He has published 25 best-selling annuals and four special collections: 'The Mandela Files', 'VuvuzelaNation', 'Democrazy' and 'WTF: Capturing Zuma'.
His lecture, which was titled "Long Live Makhanda", encouraged South Africans, especially the youth to "find that thing that they're interested in – that will make a difference."
Shapiro, with his coined statement, "Careful – this pen is loaded" projected on the screen, spoke about the importance of social justice fighters in South Africa today.
In his lecture, Shapiro analysed his cartoons and reflected on his own fight against injustice, which began in the 1980s. After being forced to join the army, Shapiro joined the End Conscription campaign and the United Democratic Front. His career has seen some obstacles which include him being arrested under the Illegal Gathering Act, monitored by military intelligence, and recently sued for defamation twice by former president Jacob Zuma for a net total of R22 million.
Shapiro, using his cartoons, highlighted key events and figures in South Africa's turmoiled political history. Some of the cartoons which featured in his speech were "The Lyin' King," "Buy the Beloved Country," and "Thuli Madonsela and the Nkandla Report."
Shapiro urged Makhanda's youth to educate themselves about South Africa's inequality and to always strive to better the lives of those around them.
Retired Head of Department and Senior Schoolteacher at Kingswood, Neil Hartzenberg introduced the award. He explained that it is awarded to someone who embraced the Neil Aggett spirit.
Hartzenberg gave advice to the Kingswood students about how to embrace the Neil Aggett way:
"Make sure that you understand the community problems around you; commit yourself to doing something meaningful and constructed with those affected and do it even if it means sacrificing a more comfortable lifestyle for yourself."
This year, the Neil Aggett award was presented to 15-year-old Kayleigh Smith, a Grade 11 pupil, for her dedication to community service during the COVID-19 lockdown. She designed, produced and sold jewellery on social media sites in order to raise money for those who were in need. She donated funds and essential items such as nappies to unemployed mothers in vulnerable communities around Makhanda.
Aggett was a former Kingswood student who became involved in the fight against the Apartheid regime. He abandoned his medical career and joined the Black Trade Union Movement, specifically the Transvaal branch of the Food and Canning Workers Union. In 1981, Aggett was detained for "interrogation'" without trial and was later found hanging dead in cell 209 in the John Vorster Square police station on 5 February 1982. His death was ruled a suicide until 4 March 2022, when Judge Motsamai Makume ruled that Aggett's death was a murder by members of the security police – more than 40 years after his death.