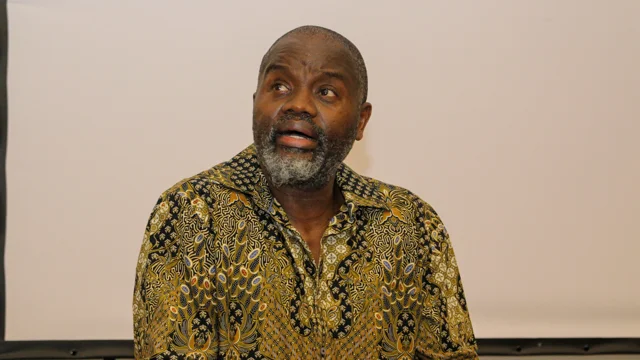 The Rhodes University Faculty of Law kicked off its 2022 academic year by hosting a faculty opening event. The event was attended by staff, students and the guest of honour, Mr Mbuso Mtshali, an alumnus of the Rhodes University Law Faculty and the Head of Corporate Governance and Company Secretariate of Sanlam.
Mr Mtshali, having been the recipient of the 2016 Rhodes University Distinguished Old Rhodian Award, was able to relate to the current law faculty students on what it is like to study the law at an institution like Rhodes University. He spoke to the students about the crucial topics of leadership, how Rhodes University prepared him for leadership, his role in giving back to the Rhodes community, and the essential charitable role lawyers play in this regard.
On leadership, Mr Mtshali professed candidly that the belief that age plays a role in leadership is one he disagrees with. He encouraged the young soon-to-be lawyers in the room with the words, "it would appear that people in leadership positions are becoming younger and younger and, in most instances, they are doing a fantastic job at it". He spoke about how Professor Bonang F. Mohale's assertion that "what South Africa needs across every sphere – [is] leaders who seek to serve" has been instructive in shaping his views on servant leadership and its importance in the legal profession.
Mr Mtshali recalled his time at Rhodes University during the mid-1980s and early 1990s, which were the years of political change and turmoil in South Africa. He related how the institutions of higher learning were not insulated from what was taking place in the country. He expressed how being enrolled as an LLB student when the country was "still largely divided along racial lines" informed his path to becoming a lawyer and how it shaped his views on leadership.
Even though black students at Rhodes University could not partake in certain activities on campus in his day, Mr Mtshali still believes that "student life at a tertiary institution is, without doubt, one of, if not the best, part of one's life". He further highlighted that participating in activities he was allowed to, including student organisations, sports organisations, the SRC, being a Kimberly Hall Representative and a Stanley Kidd Senior Student, helped shape the person he is today.
"One of the challenges most companies face today relates to employment equity transformation. I can make meaningful contributions in these deliberations in our organisation because I was part of a team that worked tirelessly in uniting sports at Rhodes University in the early 1990s," he explained.
He regards the transformative role he played in these organisations, as well as the three months that he spent in St Albans prison in Gqeberha, detained under the State of Emergency Regulations in 1988, as his "infinitesimal contribution to the establishment of the free, non-racial, non-sexist, democratic South Africa that we all enjoy today".
Mr Mtshali said how proud he is to be a member of the Rhodes University Black Students Alumni Fund that was established in 2007 and which started offering bursaries for LLB tuition fees to deserving students in 2012 at Rhodes University. To date, ten LLB students have benefitted since the Fund was established. Two are now legal advisors, four are practising law, one is doing his articles, while the other two are still studying at Rhodes University.
"When you have qualified and become successful (howsoever one chooses to define this term), I encourage you to consider an opportunity to give back, not only in terms of financial support but by mentoring others," he said.
After Mr Mtshali had shared his wise words and advice to the students, a cocktail hour was hosted where the Dean of Law at Rhodes University, Professor Laurence Juma, commended the students and staff for working hard and enduring the difficulties of remote learning over the past two years. He acknowledged the substantial growth the law faculty has experienced this year in terms of student intake and highlighted what this would mean for the Faculty as the year proceeds. He also emphasised how the Faculty would be going back to in-person assessments and examinations.
He also used this time to acknowledge the presence of another special guest, Professor Midgely, the former Dean of the Rhodes Faculty of Law and former Vice-Chancellor of Walter Sisulu University. He ended his remarks by congratulating two faculty staff members, Professor Helen Kruuse and Dr Nomalanga Mashinini, on achieving their respective PhDs.
The Law Faculty Opening was concluded by celebrating the academic achievements of some of its brightest and most promising students.
The following students were recognised:
Dean's list certificates will be awarded to:
LLBB 2
Tinotendaishe Jowa
Tapiwa Madzima
Sylvia Mugwagwa
Thanyelani Ndlovu
Siphe Putumani
LLBB 3 and Penultimate Year
Ayla Blair
Tamara Chinganya
Vhenekai Kashangura
Ntsako Mabuza
Amukelani Machabi
Jordan Moonsamy
Junaid Nyker
Caitlin Stoltz
Prizes, Bursaries and Scholarships were awarded to:
Bongani N Mpande: Law Faculty Prize: Best LLBU 1 or LT 1 Student
Jessica Freedman: Law Faculty Prize: Best LLBB 2, LLBU 2 or LT 2 Student; Adams and Adams Prize & Cliffe Dekker Hofmeyr Prize
Thabang Poshodi: Alastair Kerr Prize, Law Faculty Prize: Best Legal Theory 3 Student, Spilkin Prize
Jordan Moonsamy: Law Faculty Prize: Best Penultimate Year LLB student, Lexis Nexis Book Prize, Fred Cooper Prize, Bowman's Prize & Phatshoane Henny Inc Prize
Ayla Blair: Shirley Ritchie Prize