Rhodes > Music > Music Events
Liezl Stoltz (flute) & Catherine Foxcroft (piano) Concert
Date:
21 February 2017 19:30 - 21 February 2017 20:30

Location:
Beethoven Room, Department of Music & Musicology
Organiser: Denétha Peters (Phone 0466038490)
Event Type: Music Concerts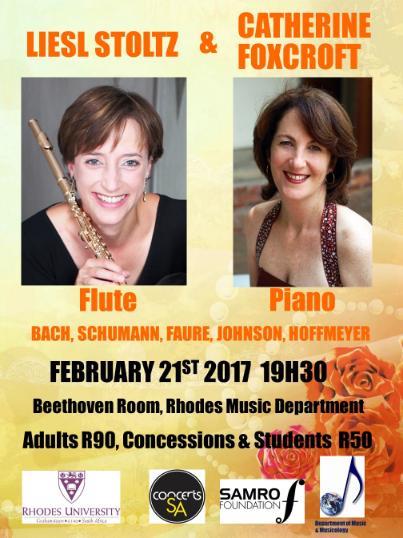 The Rhodes University Department of Music and Musicology begins its concert series this Tuesday, 21 February 2017 at 19.30 in the Beethoven Room with an exciting duo recital performed by two internationally acclaimed South African musicians, flautist Liesl Stoltz and pianist Catherine Foxcroft.
Sponsored by SAMRO, the duo will perform compositions ranging from the 17th to the 21st century, and will showcase a new composition Imicabango (Impressions) composed by the contemporary South African composer, Alexander F. Johnson. Hailed by reviewers as two of the most exciting performers in South Africa, Liesl Stoltz and Catherine Foxcroft are guaranteed to deliver an unforgettable concert.
Tickets are available at the door (R90 Adults, R 50 Concessions).
Save to Google Calendar