Rhodes > Music > Music Events
Blessing "Bled" Chimanga
Date:
28 April 2017 19:00 - 29 April 2017 21:00

Location:
Beethoven Room, Department of Music & Musicology
Organiser: Denétha Peters (Phone 046 603 8490)
Event Type: Alumni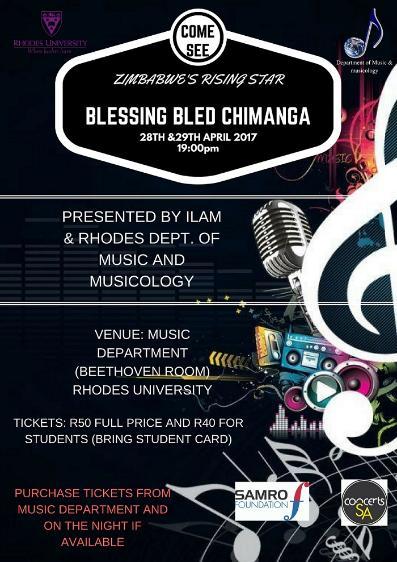 Blessing "Bled" Chimanga, the rising Zimbabwean marimba and drumming star, will be hosted by the Rhodes University Department of Music and Musicology and ILAM for the week of the 24th to the 30th April.
Bled, as he is better known, is an internationally recognised musician, who has performed with the likes of Zimbabwean stars, Hope Masike and Chiwoniso Maraire as well as Eric Wainaina from Kenya and Mike Del Ferro from the Netherlands and others too numerous to mention. In addition, he was recently named "The Best Marimba Coach in Africa" after winning 6 awards at the International Marimba and Steelpan Competition in South Africa which had over 2000 participants. Bled will be giving Rhodes music students workshops and master classes at ILAM and will end his visit with two concerts held at the Beethoven Room on Friday the 28th April and Saturday the 29th April at 7 p.m.
Save to Google Calendar