Rhodes > Music > Music Events
RU Symphony Orchestra Gala Concert
Date:
27 September 2017 19:30 - 27 September 2017 20:30

Location:
Guy Butler Theatre, Settlers Monument
Organiser: Denétha Peters (Phone 046 603 8490)
Event Type: Music Concerts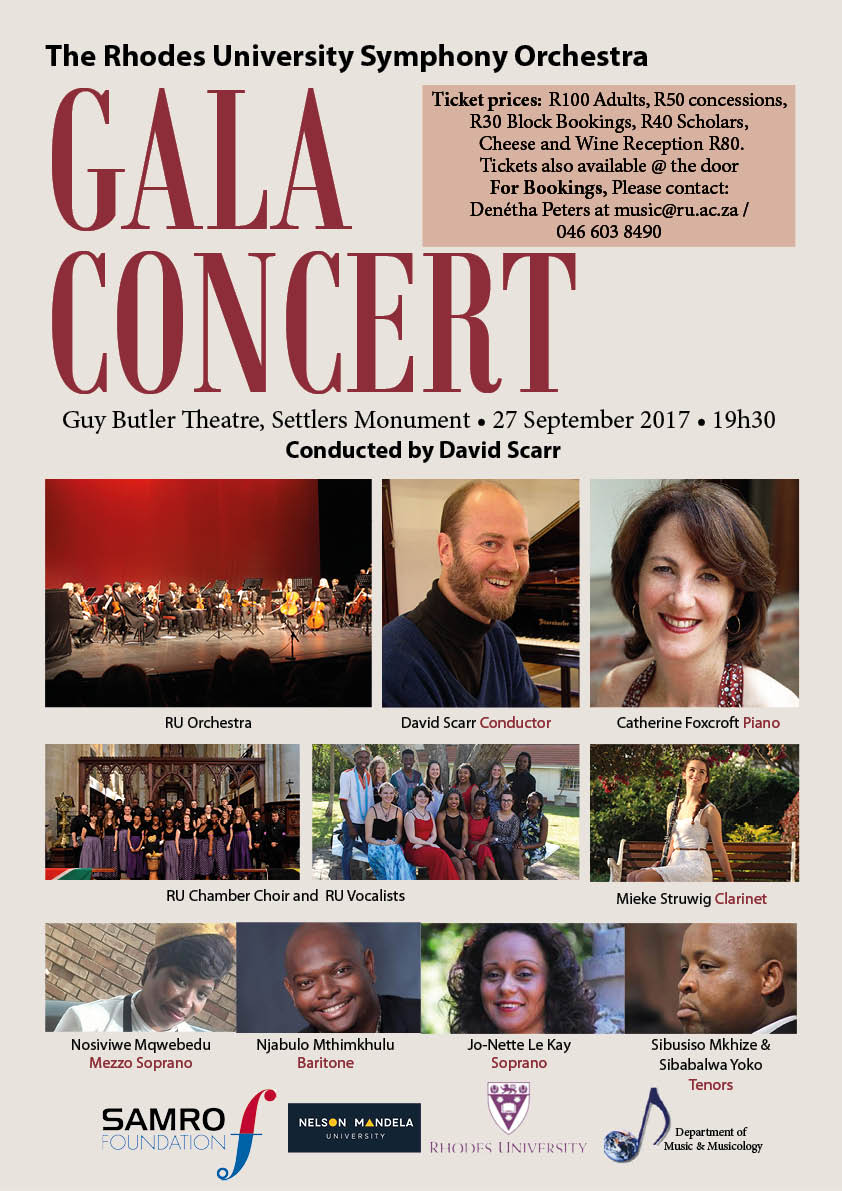 ‌
On 27 September 2017, the Rhodes University Symphony Orchestra, conducted by David Scarr will perform in the Guy Butler Theatre, Settlers Monument at 19:30. The performance showcases the Rhodes University Symphony Orchestra in collaboration with the NMMU orchestra, top young musicians from local schools St. Andrew's College and Kingswood College, as well as members of the ECPO and local musicians.
The 60 minute programme includes some all-time musical favourites such as the Mozart Clarinet Concerto 2nd mvt played by NMMU clarinettist Mieke Struwig, Rachmaninoff Piano Concert No 2 1st movement played by pianist Catherine Foxcroft, Verdi Aria Bella Figlia dell' amore (Rigoletto) as well as Khumalo Ihubo Lika Mvelinqangi - Hymn of the Creator (uShaka) sung by vocal quartet Jo-Nette Le Kay (soprano), Nosiviwe Mqwebedu (mezzo soprano) Sibusisio Mkhize and Sibabalwa Yoko (tenors), Njabulo Mthimkhulu (baritone). The curtain will rise to the sounds of the RU Windband conducted by Lindsay Johnston and conclude with a guest performance by the RU vocalists and RU Chamber Choir performing Mozart Lacrimosa (Requiem).
Sponsored by SAMRO, the programme features City Slickers originally composed in 2002 by South African composer Grant McLachlan for a TV documentary depicting the lives of penguins and their greatest hazard, oil.
A candle-lit cheese and wine reception follows the concert in the foyer.
Tickets:
Adult R 100, Concessions R 50, Students and Scholars R 40, School block bookings R 30.
Cheese and wine reception: R 80
Pre-bookings are available at the Rhodes Music Department from Denétha Peters (d.peters@ru.ac.za). Tickets will also be on sale at the door.
The concert is an annual fund-raising initiative. All proceeds from the concert will be allocated to the Music Department's 1st year bursary, awarded annually to a prospective BMus student in need of financial aid. Two BMus students are currently funded by the proceeds from the 2016 Gala concert.
Save to Google Calendar