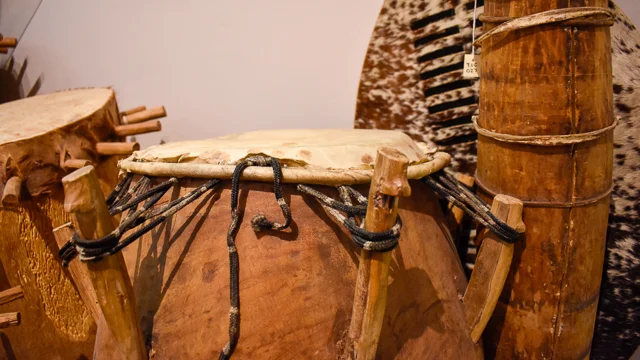 Traditional African instruments housed at the International Library of African Music, Rhodes University
Finding the beat in African Music on Africa Day
On Africa Day (25 May), Rhodes University's Department of Music and Musicology hosted Professor Kofi Agawu, Distinguished Professor at The Graduate Center, City University of New York and Adjunct Professor in the Institute of African Studies, University of Ghana, Legon.
Born in Ghana, Agawu is one of the world's leading musicologists and a pioneer in the field of African musicology. He studied composition and music analysis in the United Kingdom and musicology in the United States before taking up teaching roles at institutions like Princeton, Yale, Duke, Cornell, King's College London, and the University of Oxford, and was appointed as Professor of Music and African and African-American Studies at Harvard University in 2006. What is perhaps most remarkable about Agawu's scholarly career is that he has made major contributions to the field of Western music analysis and, simultaneously, reinvented the scholarly discourse on African music.
Agawu's talk formed part of the Department's colloquium series which has attracted scholars from some of the world's leading research institutes, including the University of Oxford, University of California, Santa Cruz, New York University, and University of Chicago, among others. While many presenters in the series have addressed issues directly related to music on the African continent, the research shared by Agawu spoke to one of the most pervasive—but also most poorly understood—issues in African music studies: beat.
Either construed in overly mythical or abstractly technical language, beat in African music has presented researchers in the field with a number of vexing problems. One of the most considerable issues is that there does not exist an analogous word in many African languages for what is meant by beat in English. In Ewe, Agawu explains, phrases such as 'on the drum' approximate beat, but do not capture its abstraction. The same often applies in Southern African languages, as the former director of the International Library of African Music (ILAM), Andrew Tracey, explained. In posing this question to musicians of where the beat lies, he would often ask, "where are the music's feet?"
Perhaps most interestingly, and corroborating the approaches long taken at the ILAM, Agawu advocated for dance as an inseparable methodology for the analysis of beat. "Bodies domesticate the beat," he said in a statement that challenges the mind-body divide prevalent in much Western music scholarship. To find the beat thus is to perform the beat in real, everyday contexts. Instead of a universal notion that can be extracted from the music alone, Agawu made the powerful suggestion that beat is something that we as culturally situated subjects bring to the music.
This point sparked much discussion after the presentation. Tracey, who was among many senior scholars from the African continent in attendance, responded by saying "I agree with everything you have said." A rare sentence to hear in an academic forum such as this one, Tracey's agreement should not be taken for granted. It is a sentiment shared by Sibusiso Ncanywa, a Master's student in the Department of Music and Musicology, who said that the notion that "beat is something that we impose; it is something given by the culture itself" is a very strong idea.
"Agawu's research is particularly powerful for the way it recentres the perspective of culture bearers and academics on the African continent," said Dr William Fourie, Coordinator of Postgraduate Studies and Convenor of the colloquium at the Department. "I specifically extended an invitation to Kofi to present on this remarkable day [Africa Day] because his work has long shaken the bedrock of a scholarly discourse that has not paid enough attention to the African perspective. We need more academics like him, and by inviting him to speak to our Department, I hope that we are enabling our own students, who represent the next generation of leading African scholars, to find their own world-leading beat."
Source: Department of Music and Musicology