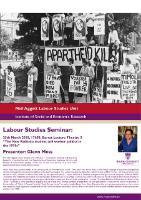 March 2015 saw the launch of a new inter-departmental Labour Studies Seminar Series at Rhodes University. This new seminar series was developed by the Neil Aggett Labour Studies Unit (NALSU) in partnership with academics in the Departments of Sociology, Economics, History, and Political and International Studies. Aimed at deepening an emerging network of researchers working in the broad field of labour studies, this seminar series will showcase research on labour or the world of work that draws on a range of methodological and theoretical approaches. Although dominated by presenters from Rhodes University, the series will also draw on presenters from elsewhere, as is evidenced by the two presenters who presented the first two seminars of the 2015 series.
On 19 March 2015, Prof Martin Wittenberg – who is a Professor of Economics and Director of DataFirst at the University of Cape Town – gave a seminar on Wages and Wage Inequality in South Africa 1994-2011: The evidence from household surveys. This well-attended seminar examined trends in wages since the year of the first democratic elections in South Africa until 2011, using the data from Statistics South Africa's October Household Surveys, Labour Force Surveys and Quarterly Labour Force Surveys. Prof Wittenberg demonstrated how inequality in earnings among employees has increased over the post-apartheid time period, with increases in earnings during that period going disproportionately to higher income earners. His visual demonstration of increasing inequality in earnings brought his argument across very vividly, and the discussion included reflections on the links with Thomas Piketty's work on inequality as captured in his book Capital in the Twenty-First Century.
On 26 March 2015, Glenn Moss, the author of the book The New Radicals: A Generational Memoir of the 1970s, gave a seminar on the complex interface between student and worker politics in the 1970s. Mr Moss grounded his reflections in his experiences as a student leader at the University of the Witwatersrand in the 1970s, as well his experience in the worlds of journalism and publishing, which included time as editor of Work in Progress and the South African Review, as well as head of Ravan Press. The 1970s was a time when a new radical challenge to apartheid emerged that directly challenged the economic foundations of the apartheid system. Initiatives such as the Wages Commissions and the Industrial Aid Society linked student activists directly to worker struggles, and contributed to a resurgence of the labour movement. This seminar stimulated vibrant discussion that included reflections on its implications for present-day South Africa.