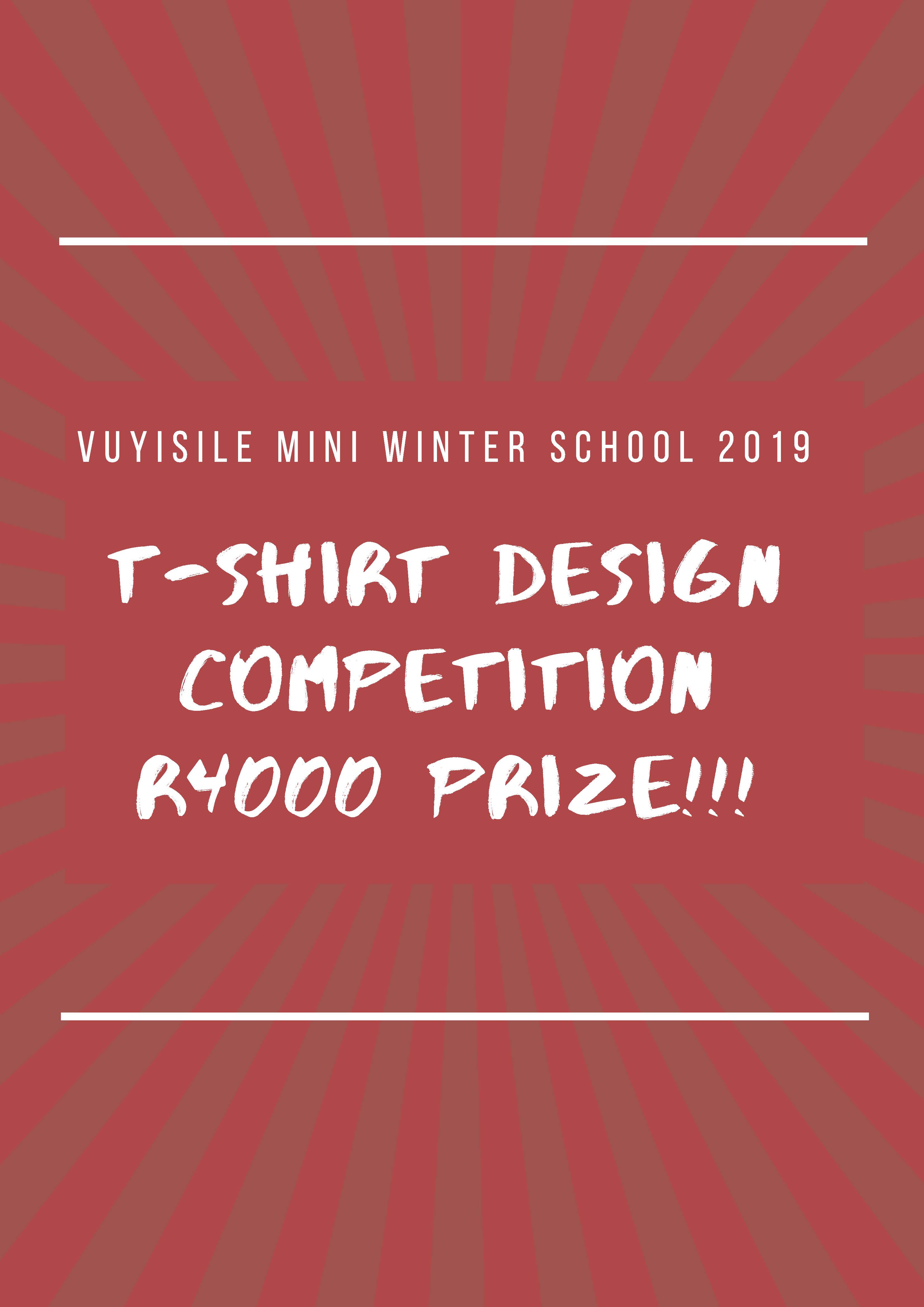 Can you design a bold t-shirt? Give themes a graphic form? And use some prize money?
This July union activists come to Rhodes for the annual Vuyisile Mini Winter School: a place to share ideas, learn from experiences and build workers' education and power. Hosted by the Neil Aggett Labour Studies Unit (NALSU) 2019 in partnership with the Departments of Sociology, History, and Economics and Economics History, this is the fourth in the series.
The theme for this year's Winter School, to be held 9-12 July, is "Politics within and at a distance from the state." It reflects on political parties, class struggles and racial justice, and whether the working class and the poor can or should use the state, including elections.
The Winter Schools are named after a black trade unionist, hanged by the apartheid regime in 1964. A legend of the liberation movement, Vuyisile Mini was born in Tsomo in 1920, and was a key anti-apartheid and trade union figure in Port Elizabeth. He organised metalworkers, construction workers and dockers. Jailed in the 1952 Defiance Campaign, and also prosecuted at the 1956 Treason Trial, he was unbowed: in 1961 he became Umkhonto we Sizwe (MK) commander in the Eastern Cape. A gifted poet, songwriter and singer, his heroic legacy inspires those fighting for dignity and freedom in the 21st century.
We want YOU to design a great t-shirt for the occasion! We want to use a black, white or grey t-shirt. You can use up to FOUR COLOURS. The design is only required for the front. You should include the following phrases: "Vuyisile Mini Winter School 2019", "Politics Within and At a Distance from the State"; "Neil Aggett Labour Studies Unit," and incorporate the logos of Rhodes University and the Friedrich Ebert Stiftung (our funder) (logo available on request).
DEADLINE: 5pm on 31 MAY 2019. Entries should be e-mailed to Valance Wessels at v.wessels@ru.ac.za by the deadline. Please convert the design into an accessible format for viewing purposes e.g. PDF or JPEG.
PROCESS: Three entries will be short-listed by the organising committee of the 2019 Winter School within a week. Students who designed those three shortlisted entries will be invited to present their designs to the organising committee, and to amend the designs based on feedback, and then submit amended designs. A final decision will be taken on Thursday, 13 June and the winner will be notified that same day.
EXAMPLES: Below you will find examples of designs used for previous winter schools and other similar events, but definitely do not expect replication of what was done before! It's your show.
Hone your design skills, engage with a client and, if successful, get the honour of making a difference as well as some money!

Source: Vuyisile Mini Winter School
Please help us to raise funds so that we can give all our students a chance to access online teaching and learning. Covid-19 has disrupted our students' education. Don't let the digital divide put their future at risk. Visit www.ru.ac.za/rucoronavirusgateway to donate