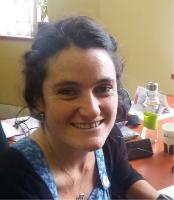 Dr Laura Alfers
BA, MA (Rhodes), MPhil (Cantab), PhD (UKZN)
Laura completed her PhD at the University of KwaZulu-Natal. Her research focused on the politics of inclusion into health policy in Ghana and India, including an analysis the policies of the World Health Organization and the International Labour Organization. Laura held a postdoctoral fellowship in the Neil Aggett Labour Studies Unit (NALSU) in 2016 and 2017. She is a Research Associate in the Department of Sociology, Rhodes University and a NALSU Associate. Laura holds the position of Director of the Social Protection Programme of the global research-action-advocacy network, Women in Informal Employment: Globalizing and Organizing (WIEGO), and her main research interests relate to social policy and employment (with a specific focus on the informal economy). A secondary interest is the relationship between urban policies, social policies and informal employment which takes place in urban public spaces. For the last seven years she has been involved in action-research projects in Brazil, Ghana, India, and South Africa aimed at improving the access of informal workers to health services. She has also more recently been involved in work that seeks to better understand the linkages between child care provision and women's economic empowerment.
Recent Publications
Moussié, R and Alfers, L. 2018. Women informal workers demand child care: Shifting narratives on women's economic empowerment in Africa. Agenda, 32 (1).
Alfers, L, Lund, F and Moussié, R. 2017. Social Protection for Informal Workers: Aligning Productivist and Humans Rights Based Approaches. International Social Security Review, 70 (4).
Surender, R., van Niekerk, R and Alfers, L. 2016. "Is South Africa Advancing Towards National Health Insurance? The Perspectives of GPs in One Pilot Site," South African Medical Journal, 106 (11).
Alfers, L, Dobson, R and Xulu, P. 2016. "Promoting workplace health & safety in urban public space: reflections from Durban, South Africa." Environment and Urbanisation, Vol 28 (2).
Alfers, L. 2016. "Our children do not get the attention they deserve: A synthesis of findings on women informal workers and child care from six member-based organisations." WIEGO Research Report. WIEGO: Harvard Kennedy School, Mass. USA.
Alfers, L, Xulu, P, Dobson, R, and Harparisad, S. 2016. "Extending Occupational Health & Safety to Urban Street Vendors: Reflections from a Project in Durban, South Africa." New Solutions: A Journal of Occupational & Environmental Health Policy, 26 (2).
Lund, F, Alfers, L, and Santana, V. 2016. "Towards an Inclusive Occupational Health & Safety for Informal Workers." New Solutions: A Journal of Occupational & Environmental Health Policy, 26 (2).
Alfers, L and Rogan, M. 2015. "Health Risks and Informal Employment in South Africa: Does Formality Protect Health?" International Journal of Occupational and Environmental Health, 21 (3).
Last Modified: Fri, 02 Nov 2018 15:12:06 SAST