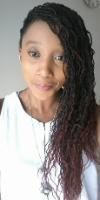 Siviwe Mhlana is currently reading towards a degree of Master of Arts in Social Policy and Labour Studies in the Institute for Social and Economic Research (ISER), at Rhodes University. She is also associated with the Neil Aggett Labour Studies Unit (NALSU). Her research explores the socio-economic effects that globalisation has on developing countries, particularly the relationship between globalisation, in the form of multinationals operating in developing countries, and how participating in the global market place affects the levels of poverty, unemployment and inequality in developing countries.
During her time in the Eastern Cape, she has worked with several social movements that are involved in the fight against poverty, inequality and unemployment, as well as other socio-economic issues affecting mostly poor communities such as, the crisis in education, xenophobia and the effects of dispossession in rural communities. These movements include: the Unemployed People's Movement, the Voices of Women of Africa, both in Grahamstown, and Ntinga Ntaba kaNdoda (a movement for rural activists), in the Eastern Cape. She is also the co-founder of the Young Academic Women's Association (YAWA), a community based project which seeks to provide a platform for young women to discuss and address the social injustices and inequality they face in academia.
An activist herself, she believes in the power of organising for social justice in order to effect change in the lives of disadvantaged and marginalised people. Her work with social movements has inspired her to be critical of the systems of wealth and power, and to pose critical questions that will aid in determining what is meant by sustainable development in the African context.
Last Modified: Fri, 31 Mar 2017 09:32:05 SAST