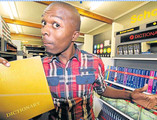 A MULTILINGUAL Grahamstown language activist who uses a hilarious mix of Xhosa and English to tickle the funny bone has been nominated for a top South African Comics Choice Award.
Tsepiso Nzayo has a Rhodes University honours degree in African languages and is laughing all the way to the bank thanks to his unique comedy routine which brings smiles to faces – even if they do not completely understand what he says.
Although he is honoured to be nominated for a best newcomer South African Comics Choice Award at the end of August, Nzayo has set his sights on making a splash in Fingo Village at next month's National Arts Festival in the City of Saints.
"I am known as a language activist who will toyi-toyi for his language," he chuckled.
Although he loves nothing better than getting people to laugh, the multitalented Nzayo does not joke when he says there is more to his work than just being funny.
Instead, he tries to bring back "dignity and power" to African languages through his work in stand-up comedy, penning new media Xhosa blogs, writing and performing poetry and regular radio work on Umhlobo Wenene.
"I am an epic epitomisation of the future of the wordsmith in South Africa."
The eldest of four children, Nzayo and his siblings were raised by his mother Kholiswa, a domestic worker, in a single-parent household which was short of cash at times but always full of laughter, love and support.
"I have always made people laugh and used to be a champ of the teasing game ukugorana when I was a kid. I was so good people wanted to beat me up." A self-confessed multilingual comedian, Nzayo said getting people to laugh involved delivery rather than just understanding the words and punchline.
Committed to succeeding in life, the talented Grahamstown funnyman went back to school four years after he matriculated in 2002.
This was to get an exemption so that he could realise his dream of studying at Rhodes University.
"I applied for jobs in supermarkets and was turned down even though I had a matric.
"That motivated me to go back to school and try to get into university."
Starting out in journalism, Nzayo completed his first year and then decided to study Xhosa.
"I realised the language taken seriously," he said.
Over the years he has was not become a regular face at local comedy gigs.
"I write, edit, and then rehearse for myself in front of a mirror.
"That is the best option because people close to you will not give you an honest answer, or they may not be the type of audience you will perform for.
"What is funny to them might not be funny to my audience."
Rhodes language school head Professor Russell Kaschula said he had watched Tsepiso carve a place for himself in a multilingual reality as a comedian.
"This is something that no one has fully explored. Like listening to good music, I don't believe you need to understand all the words that a comedian says in order to laugh at what is being suggested."
"I believe multilingual comedy is the future for South Africa," he added.
Caption: MY WORD: Grahamstown multilingual comedian Tsepiso Nzayo is making waves with his unique brand of humour.
Story and Picture by: DAVID MACGREGGOR
Source: Daily Dispatch