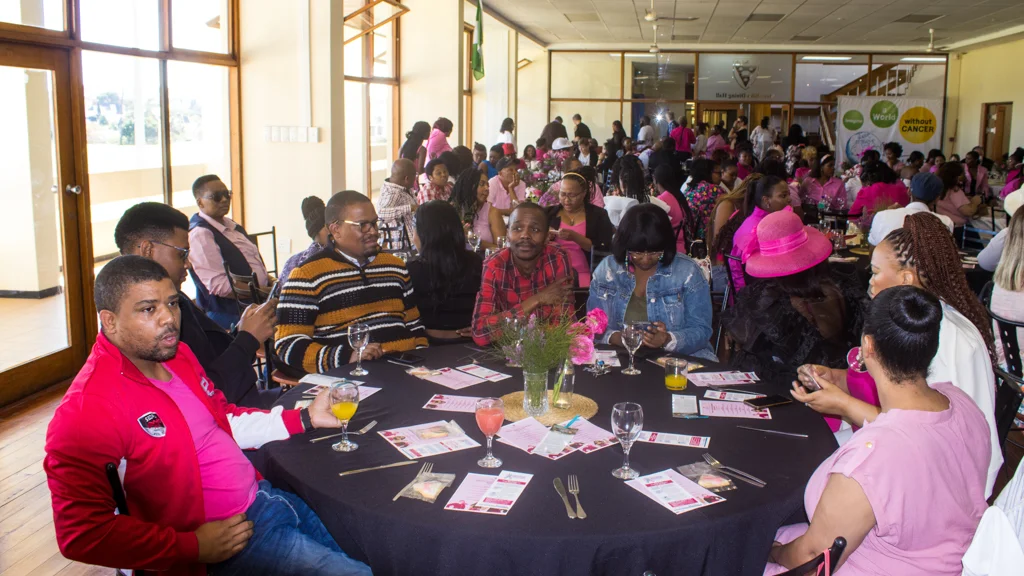 By Anelisa Centani
The Rhodes University Division of Student Services and Development (DSSD), in collaboration with the Health Care Centre (HCC) and the Residential Operations, held a breakfast at the Oppidan Dining Hall last week to raise breast cancer awareness.
The event opened with a warm welcome from Jay Pillay, the Director of Residential Operations, who also served as the program director. She articulated a call to action, urging every attendee to join forces to prevent women from losing their lives to breast cancer. "We are acting now to stop women dying from breast cancer. Together, we can raise awareness," declared Pillay.
Project and Communications Officer in the Office of the Vice-Chancellor, Vuyo Baneti, delivered a speech, and she highlighted a crucial message—that despite people's differences, breast cancer is a familiar foe, affecting women of all races and ages. "Even though we are divided by so many things, breast cancer is one of those common cancers in all women of all races and currently of all ages," she said. Baneti's call to action echoed throughout the event as she emphasised the importance of regular self-examinations and mammograms. She encouraged attendees to view the event as a nudge to prioritise their health and contact healthcare professionals for screenings.
Survivor of breast cancer, Lianke Bradfield, shared her courageous journey with the attendees. "Every time I looked at myself in the mirror, I was reminded that I had cancer and could die and leave my two young children," said Bradfield. Throughout her address, Bradfield expressed profound gratitude for the support of her husband and family, who stood by her side during her darkest moments. She highlighted her numerous challenges, including hospitalisations, rashes, and the difficulty of undergoing treatment during the COVID-19 pandemic. She urged women to do regular check-ups and self-examinations. "Go for check-ups. Do self-examination and be aware that cancer can happen to anyone at any age. Save your life," she said.
Department of Health's representative, Laura September, recognised the significance of the University's role within the community, serving a diverse population of students, staff, and residents.
She emphasised that individuals must remember that various types of cancers affect both men and women. "This event isn't just for women. Men are not excluded because there are so many other cancers. We lose so many of our people together," said September. September highlighted the challenges faced by the healthcare system, including waiting lists and resource constraints. "Surgeries cannot be done because there are no funds, equipment, or staff to do the kind of surgeries needed, and people are on long waiting lists," she explained.
She also emphasised that prevention through regular check-ups and early detection saves lives and reduces the economic burden on individuals and the healthcare system.
Specialist gynaecologist, Dr Nontembeko Somlota, shared her expertise, ensuring that the attendees were left with a profound understanding of breast cancer, its risk factors, and the importance of proactive healthcare. In her presentation, she shed light on the role of hormonal factors, age, and even exogenous hormones in breast cancer. "While breast cancer screening can be uncomfortable and may lead to occasional unnecessary concerns, the benefits far outweigh the disadvantages". Dr Somlota dispelled myths surrounding breast lumps and biopsies, assuring women that not all breast lumps are indicators of cancer. Her mission extends far beyond the routine aspects of gynaecology; it encapsulates a dedication to educating and raising awareness about critical health issues.
Head Professional Nurse at the HCC, Sister Heather Ferreira, extended her heartfelt gratitude to everyone who joined the Breast Cancer Awareness event. "Your presence here is a testament to the strength of our community and the commitment we share in fighting against breast cancer", she said. Ferreira shared an announcement that filled the room with immense joy and anticipation. "Makhanda will host its first-ever breast cancer march next year. The journey ahead promises to be remarkable, filled with purpose and determination. Let's look forward to the great things we will achieve as we come together and take those meaningful steps towards a brighter, cancer-free future", concluded Ferreira.