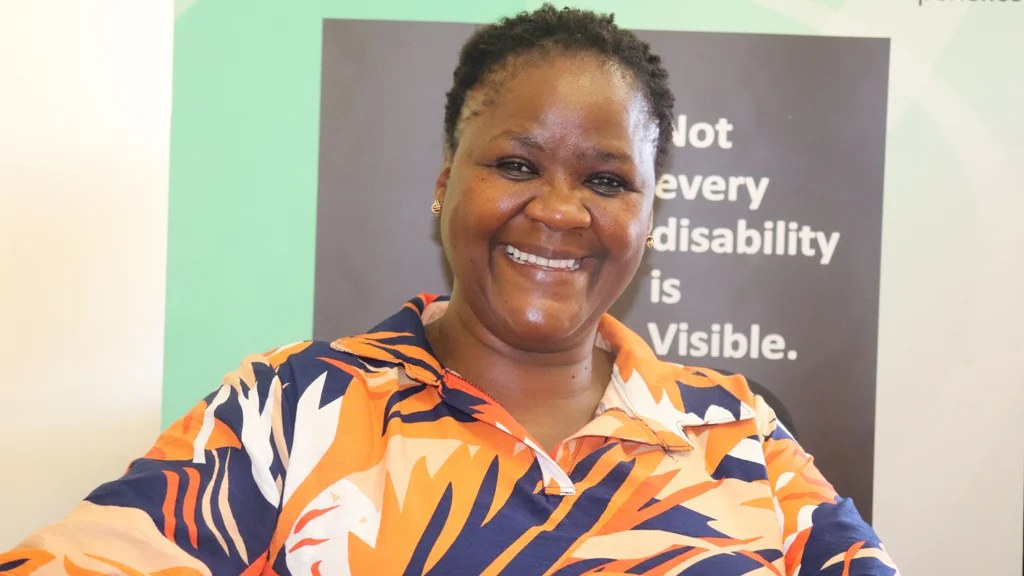 After a fulfilling 11-year journey at Rhodes University, Division of Student Affairs (DSA) Director, Ms Nomangwane Mrwetyana, bids farewell to the University. 'Mam' Noma', as she is affectionately known by students, leaves her alma mater with fond memories. She started as a Senior Psychologist at the Counselling Care Centre and worked her way up to the Director position.
Mam' Noma's interest has always been in working with children, and that interest grew to include adolescents and young adults. She said her experience with young people taught her how to be a good mother to her own children. Mrwetyana said one of the reasons she wanted to work at Rhodes University was to give back to the institution that made her who she is. She studied a Bachelor of Social Science, Honors in Social Science, and Master's in Counselling Psychology at the then East London campus. "Another reason I wanted to come to Makhanda was schooling opportunities for my children because the City has some of the best schools in the country. I come from a very disadvantaged background in terms of schooling, and therefore I wanted to afford my children the best," said Mrwetyana.
She arrived at Rhodes University on 01 February 2012, after working for Walter Sisulu University as a Psychologist. "I was very anxious when I arrived because it was a totally different environment from what I was used to. I had to adapt quickly, and the University taught me how to embrace diversity in various ways," she explained.
She later became the head of the Counselling Centre and then Student Wellness Manager. She said being the Student Wellness Manager was one of the most difficult tasks she has ever had. "I played the role of an Anti-Harassment Officer, and this was during the time of '#RUReferenceList'. My psychology background automatically kicked in, and I had to use my knowledge and experience to deal with cases. I won't lie - the experience took a lot out of me, and I still don't know if I have healed from all the trauma," said Mrwetyana.
In January 2018, she was appointed as the DSA Director, something she said she never dreamed would become a reality. "I was not sure whether I should take the role up or not, but looking at the Division at that point, I felt that the gap in leadership was damaging the Division. I decided, for the sake of the students at Rhodes University, I should take it," she said. Mrwetyana said what made her job easy was the fact that Rhodes University Student Representative Council (SRC) is non-partisan. "I would never have put up my hand for this role had it not been that our SRC was not non-partisan," she explained. She said the first thing that was important for her was to build cohesion because people were scattered, and morale was low. She had to prove that she had what it took to succeed in the position.
The outgoing Director said one of the highlights of her career at Rhodes University was the development of the DSA Strategic Plan document, which coincided with the first Institutional Development Plan. "We had to work strategically to win the trust of students and be visible and available to students at all times, and teamwork played a pivotal role in this regard," she said.
The 52-year-old professional Psychologist thanked the Rhodes University community for the support given to her during the time of her family tragedy when she lost her daughter, Uyinene. "I will forever be indebted to Rhodes University, from the Vice-Chancellor to senior management to SRC and students. The support we received as a family was overwhelming," said Mrwetyana
She thanked the University for assisting her in establishing the Uyinene Mrwetyana Foundation and referred to the staff and students who were involved as 'midwives'. The Ngqushwa-born Mrwetyana will now focus on her foundation and open a private psychology practice in East London.
2018 SRC President, Nhlakanipho Mahlangu said Mam' Noma greatly impacted her personal life as a young woman with very big goals. "The first time I felt whole at Rhodes University was when I started having long chats in the afternoons with her, and one thing that I appreciate so much about Mam' Noma is how she has led with such authenticity. I am proud of everything she has done in this role and that I got to be one of the SRC presidents to experience her as a Director of Student Affairs," said Mahlangu.
2019 SRC President, Samkelo Mngadi said the 2019 SRC would like to thank Mam' Noma for her service to the institution, the Rhodes community at large, and Rhodes University students. "I spent time with her in our monthly meetings, and her open-door policy helped create a conducive space where we, as student leaders, could come to her with urgent student matters. Her approachable nature and motherly wisdom were warmly welcomed," said Mngadi. He said that even in difficult committee meetings, Mrwetyana's steady calm left him in awe. "Rhodes University has genuinely lost someone with a true heart for student issues," added Mngadi.
2020 SRC President, Katlego Mphahlele said Mrwetyna's departure would be a huge loss to Rhodes University students and the University as a whole. "What a gem she was; what a force to be reckoned with. We would communicate even on weekends trying to come up with solutions that would improve the students' lives as there were a lot of adjustments to be made during the Covid-19 and online learning. She never stopped using her superpower, that of being a mother. This made things easier, and even her solutions came from a place of care. She was always willing to listen and learn from us and would encourage us to share our thoughts. A leader who used to challenge us to come up with new ideas. We will forever be grateful for her leadership. May God bless her abundantly, Makwande Kumkanikazi," said Mphahlele.
2021 SRC President, Leboghang Nkambule thanked Mam' Noma for her knowledge, wisdom, and words of advice. "We thank her for being there in our most difficult times, not only as student leaders but also as students and in our personal capacity. I know she will continue impacting so many young people, women, leaders, and activists going forward. Siyabulela mama," said Nkambule.
2022 SRC President, Botlhale Modisaotsile said Mam' Noma had left an indelible mark in her role as the DSA Director. "She served the students with selflessness and passion. I have experienced her love for the role in my capacity as a student and as the SRC President. She stopped at nothing to ensure that students' holistic wellness remained a top priority. She will be sorely missed because she was a fantastic person to work with. She ensured that the DSA worked closely with the SRC to enhance the student experience at Rhodes University. Kealeboga, Mam' Noma," said Modisaotsile.
Current SRC President, Avuxeni Tyala said the definition of Mam' Noma is a woman who has dedicated herself to being a voice for students. "In whatever she did, she ensured that the University remained student-centric. We will remember the warmth that was in her office. It's not easy to deal with student affairs, but she did it in a way that left the students feeling that there is still hope," said Tyala.
Tyala said she would remember Mam' Noma's voice in the corridors of the Steve Biko building when she randomly bursts into igwijo (struggle songs). "She leaves the blueprint for student and staff relationships, especially those in managerial positions. She has set the standard of leading with love and grace. We wish her the best in her new journey. Despite our attempts at having her stay for longer - we know that what waits is bigger and that her impact can never be doubted," concluded Tyala.
DSA administrator, Delvene Kemp, who has worked with Mrwetyana since 2018, said she would miss her warm, friendly personality and great work ethic.
Vice-Chancellor, Professor Sizwe Mabizela described Mrwetyana's departure as a great loss to Rhodes University. He said: "Noma has been an indispensable part of the leadership team of our University. She has led Student Affairs in an incredible, compassionate, and supportive way and has been like a mother to the young people she looks after. We are deeply grateful that we were able to have her for the years she has been here. We are immensely indebted to her for all the contribution that she has made."
Professor Mabizela said the University would support Mrwetyana in her new endeavors. He said she has a bigger mission, and the institution will support her. "To Noma, enkosi kakhulu Mahlongwane, Siyabulela ngomsebenzi omkhulu owenzile. Sizohlala njalo sazi ukuthi singeza kuwe usicebise. Makwande!"
Mrwetyana's last day at Rhodes University is 31 March 2023.