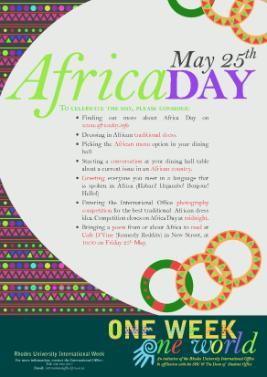 Part of One Week - One World
Friday 25 May 2012
To celebrate the day, please consider:
Finding out more about Africa Day on www.africaday.info.
Dressing in African traditional dress.
Picking the African menu option in your dining hall.
Starting a conversation at your dining hall table about a current issue in an African country.
Greeting everyone you meet in a language that is spoken in Africa (Habari! Hujambo! Bonjour! Hello!).
Entering the International Office photography competition for the best traditional African dress idea. Competition closes on Africa Day at midnight.
Bringing a poem from or about Africa to read at Cafe D'Vine (formerly Reddits) in New Street, at 18h00.
Source:
Please help us to raise funds so that we can give all our students a chance to access online teaching and learning. Covid-19 has disrupted our students' education. Don't let the digital divide put their future at risk. Visit www.ru.ac.za/rucoronavirusgateway to donate