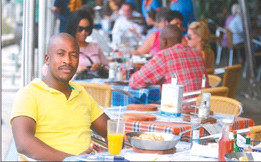 La Femme's Neo Bodumela took Ongama Mtimka of the Ubuntu Education Fund to lunch at Ocean Basket in Humewood NGAMA Mtimka's job as external relations manager at the Ubuntu Education Fund entails raising funds to finance programmes for less privileged children.
Mtimka said his decision to move from a high-profile communications job at the Nelson Mandela Bay municipality to the organisation was influenced by his desire to help young people realise their dreams and create a better future for them. At the lunch, where he had grilled fish and prawns, Mtimka recalled growing up as a quiet yet naughty boy in rural Peddie outside Grahamstown and subsequently struggling to adapt socially when he enrolled as a journalism and political studies student at Rhodes University a few years later.
Despite difficulties with the language barrier at university, Mtimka persevered and became a communications professional at Coega and the municipality - "by the grace of God". I love my job because ... it affords me an opportunity to help orphaned and vulnerable children succeed in life. We are breaking the intergenerational effects of poverty and are creating hope for South Africa.
I have a soft spot for ... resilient people who overcome major setbacks and become thriving entrepreneurs who contribute to the well-being of others. I should have studied ... entrepreneurship in addition to political studies, journalism and economics. We need to bring in a strong entrepreneurship spirit among South Africans.
Unemployment is high and it won't change unless we grow' entrepreneurs. I'd love to party with . . Richard Branson, Bill Gates and Patrice Motsepe. I'm listening to ... CDs on leadership and spiritual well-being, gospel music and local artists, my favourites being Qalazive, Abantu and Truesight Music artists. When I was 16, I wish I knew ... how to use a computer.
I probably would have been a published writer by now. I'll know I've made it when ... I make enough to live on just 40% of my earnings and give the rest to finance the gospel and help the poor. The person who has taught me w the most is ... my parents, my paternal grandfather, Coega COE Pepi Silinga, my mentor Dr Bridgette Gasa and my pastor Jerome Liberty.
My family taught e to be industrious, Pepi taught be an effective administrator and Bridgette and my pastor continue to inspire me to be an effective and excellent spiritual leader and entrepreneur. My music weakness is... African jazz lately, that is, since PEFM's gospel and jazz concert last December. I've recently bought Sankomotha and Ladysmith Black Mambazo. I think I'm getting old.
Nothing makes me happier than ... spending time with my family and having quality time with the Lord. I absolutely hate ... pretence, insecure leaders, bickering and backbiting as we are witnessing in the political domain. I wish all people would live peacefully with one another, be quick to forgive, and slow to anger. I am saving to buy ... a house. It's about time.
I share my life with... my wife, Nonkazimlo and my son, Thato and the young boys and girls who look up to me and the thousands of children we work with at Ubuntu. I can't go a day without ... speaking to God in the morning and reading the news. I read The Herald every morning and I feel lost when I've missed it.
My colleagues know my office is always full of newspapers and reading materials. It's somewhat a library. In 10 years I see myself... in full time ministry and in business, lecturing at a university, publishing books on business, politics, and development issues, having completed an executive MBA with an international university, and playing an advisory role to ministers and the president.
I will be serving on boards of big companies, mentoring entrepreneurs and financing the spread of the gospel of Jesus Christ in townships, rural areas and the world. Ongama's favourite hangouts in the city ONGAMA Mtimka loves Nelson Mandela Bay and says the municipality has the potential "to be great and I would love to be here to see it".
He shared some of his favourite places in the Bay, some of which are influenced by his four-year-old son, Thato. Hobie Beach; The Boardwalk (because of my son); Ocean Basket and Primi at Brookes Hill; Vovo Telo in Richmond Hill, and I make occasional turns at Ta Smidos in Njoli or any of the places that sell amagwinya (vetkoek) or smileys in the township.
Caption: PRAWN DELIGHT: Ongama Mtimka tucked into a prawn and grilled fish dish at Brooke's On the Bay Ocean Basket in Humewood
Picture: FREDLIN ADMAN
Story by: Neo Bodumela
Source: The Herald, La Femme
Source:
Please help us to raise funds so that we can give all our students a chance to access online teaching and learning. Covid-19 has disrupted our students' education. Don't let the digital divide put their future at risk. Visit www.ru.ac.za/rucoronavirusgateway to donate