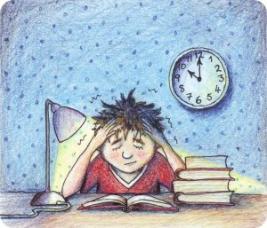 Dear Students
The examinations are almost upon us, and I'd like to remind everyone, especially first-years, of the basic rules, so that you are well-prepared. You can read the full version at http://www.scifac.ru.ac.za/examtime.htm
Seating plans: each student is allocated a specific seat, and a seating plan is placed just outside the entrance of the exam venue.
Punctuality: Doors are locked 10 minutes before the session - i.e. at 8:20 and at 1:50, and you must be seated in your allocated
place before lock-up time. Because of last-minute crowding, allow yourself some extra time to find your seat. If you find the doors have been locked by the time you arrive, don't panic: the doors will be re-opened when the papers have been distributed. If you are very late, don't panic either: you will be admitted to the venue up to one hour after the start of the session, but you WILL NOT get
additional time to compensate for your late start.
Attendance forms: at each exam you must complete an attendance form which will be collected by the invigilator shortly after the exam has started.
Student Card: you must bring your student card or ID book with you to each exam, and place it prominently on your desk for the invigilator to see.
Dictionaries: every exam venue has a few dictionaries which are available for you to use during the exam. Just put up your hand and ask an invigilator to bring it to you!
Toilets: use these before you arrive to write your exams to avoid the huge queues that build up in the exam venue just before the exam. Students who wish to go to the toilet during the exam may only do so after the first hour. Nobody is permitted to leave the
exam venue during the final ½ hour of an exam.
Personal items: all personal effects brought to the exam must be brought into the venue and left at the back. This includes books, bags, cellphones, food, etc. DO NOT leave anything in the foyer or toilets.
What you are allowed to have on your desk:
anything that you can fit into a transparent pencil case (max A4 size) plus a ruler
your student card or ID book, which you must display clearly on your desk
tissues if you need them
one small bottle of water
Dress warmly and comfortably, since you are not allowed to take cushions or blankets to your desk.
Cellphones: It is a very serious offence if you are caught in possession of a cellphone while seated at your desk (penalties range between 70 and 80 hours). There is also a harsh penalty for any student whose cellphone rings at the back of the hall during an examination. I advise that you do not bring cellphones to the examination venue at all.
Good luck with the exams, and keep in mind that luck favours those who have worked hard in preparation.
Dr Vivian de Klerk
Dean of Students
Source:
Please help us to raise funds so that we can give all our students a chance to access online teaching and learning. Covid-19 has disrupted our students' education. Don't let the digital divide put their future at risk. Visit www.ru.ac.za/rucoronavirusgateway to donate