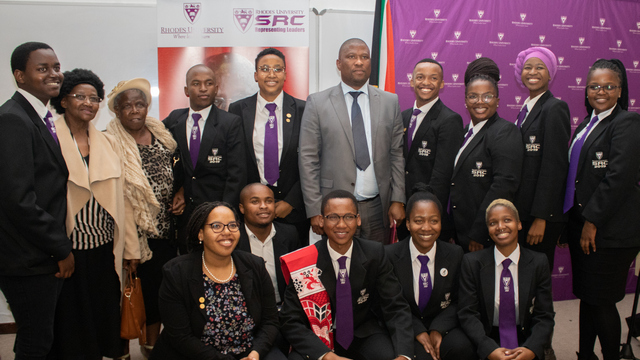 By Unathi Balele, fourth-year BAJourn student
On 10 October 2019, the Student Representative Council (SRC) hosted family, friends, congregants and colleagues for the first annual memorial of Rev Dr Simon Gqubule, who was Rhodes University's first black PhD graduate (1978).
Rev Dr Gqubule was conferred an honorary doctorate from Rhodes University in 1995 and was a long-serving President of Convocation.
Eastern Cape Premier, Oscar Mabuyane, attended as guest speaker to introduce students to the brilliant life and legacy of Rev Dr Gqubule.
The Premier said Rev Dr Gqubule was passionate about education, and believed it to be 'sacred'. The Reverend spent 65 years of tireless dedication to the betterment of Eastern Cape education. "He has been involved with various educational projects, including the Masizakhe Educational Project and also the llitha Lemfundo Educational Enhancement Project. He understood the power he had over his students, but never misused that power," said the Premier.
Rev Dr Gqubule was part of the "problematic" and revolutionary generation that challenged the apartheid government and brought about change.
"He never shied away from speaking his truth and mind under the apartheid government," the Premier stated. Rev Dr Gqubule took pride in instilling a culture of service for the benefit of others, even at the expense of himself and his family. He would always draw strength from scripture, however, such as: 'Blessed are the persecuted'.
"I will always remember him for his passion and dedication to the struggle, education and religion, as well as for his selfless contribution to the betterment of his community. I truly believe his life is one worth emulating," explained the Premier.
Mabuyane encouraged the Rhodes University current and upcoming SRC to stand firm in effectuating positive change and transformation. He also suggested renaming the venue in which the memorial was held, Barratt Lecture Theatre Complex, after Rev Dr Simon Gqubule.