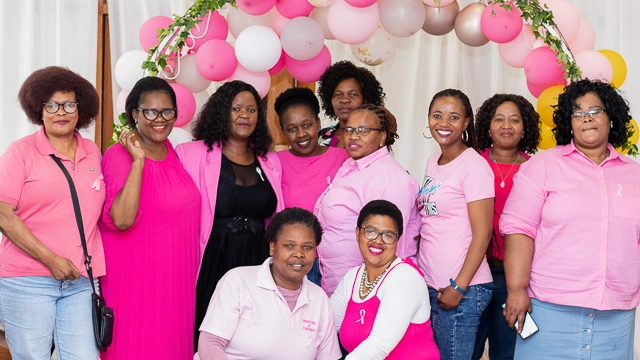 By Ntikana Ramohlale
The Rhodes University Division of Student Affairs (DSA), in collaboration with the Health Care Centre (HCC), held a breakfast at the Oppidan Dining Hall on 21 October 2022 to raise breast cancer awareness.
In welcoming those in attendance, Head Professional Nurse at the HCC, Sister Heather Ferreira, highlighted the importance of raising awareness around breast cancer since the World Health Organisation (WHO) has identified breast cancer as the most prevalent cancer in the world. Sister Ferreira also acknowledged the attendance of the Makana Health sub-district, the Office of the Vice-Chancellor, the Student Representative Council, Human Resources, Residential Operations, Finance, Communications and Advancement, the Wellness Section of the DSA Office, Sports Administration, Housekeeping, the Political and International Studies Department, International Office, wardens, the Counselling Centre, the Career Centre and the HIV Office amongst others.
Three insightful keynote addresses were presented at the event.
The first keynote address was given by Professor Mfundo Mabenge from the Faculty of Health Sciences at Walter Sisulu University, who shared his expertise on the clinical aspects of breast cancer. "Breast cancer and cervical cancer are the leading causes of cancer death in women worldwide," explained Prof Mabenge. However, he added that different types of cancer could be successfully managed if spotted early. He stated that fear and ignorance continue to be the most significant barriers and lead to many people harbouring symptoms for a long time before seeking medical advice. Prof Mabenge further encouraged the audience to pay attention to certain risk factors that may result in the development of breast cancer. Amongst those, he mentioned age as the leading risk factor of breast cancer in women, stating that cancer risk is more prevalent amongst older people. He further identified gender, obesity, alcohol use, combined use of oral contraceptives, breast density, not having children, a history of cancer in the family and tall stature as some of the common risk factors involved in the development of breast cancer.
Survivor of breast cancer, Ms Melanie Jattiem, also took to the stage to share her journey. "It's been eleven years since I've had breast cancer," she said. She reflected on the vital role that her doctors played in encouraging her to go for an ultrasound scan after a mammogram failed to detect breast cancer on two occasions. Ms Jattiem lamented the difficulties that came with her chemotherapy. "Chemotherapy destroys every cell of healthiness in your body, and after that, you must build strength for your next chemo session." She added that she had incurred multiple surgeries due to the change in her overall health from undergoing chemotherapy.
However, Ms Jattiem stated that there was a lot of positivity that she drew from her experience with breast cancer. "Many people have suffered more dire effects than me." She explained. "But as a single mother, I felt I had to teach my daughters that you don't go sit in a corner and die." She ended her speech by reiterating the importance of early detection and self-examination.
The last of the keynote speakers was Ms Janine Peinke of the Grahamstown Hospice. She touched on the importance of palliative care for people with serious illnesses. Ms Peinke emphasised that palliative care is primarily meant to provide relief from pain and other problems that may be physical, spiritual or psychosocial for patients and their families. She mentioned that palliative care is not just for terminally-ill patients but that it is also applicable after the detection of illnesses. "Our palliative care runs alongside curative therapies like chemotherapy and radiation." She added that it is only when curative therapies fail that hospice care shall assume the place of palliative care. Ms Peinke ended her address by encouraging people to approach Grahamstown Hospice for support where needed.